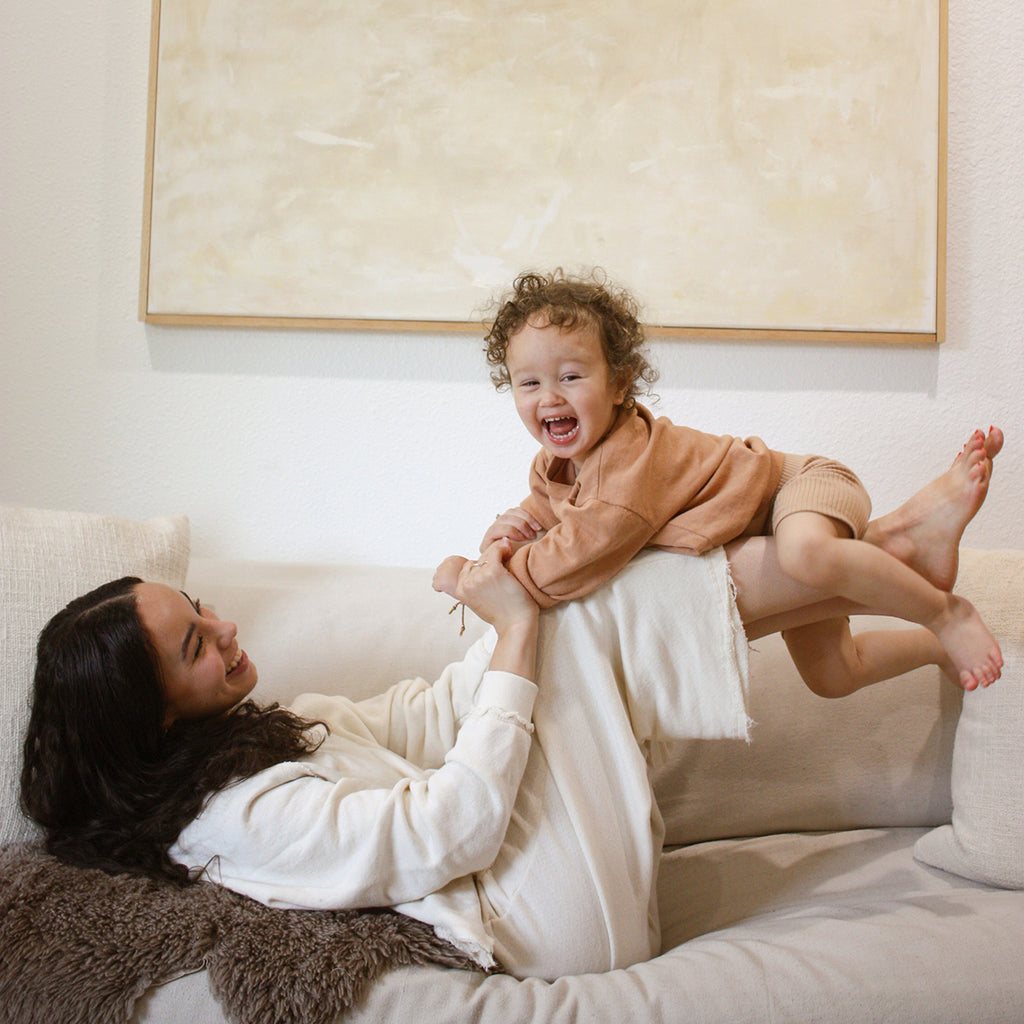 Savannah is a Texas-based multi-hyphenate creative. Beyond her work, she's the mom of an adorable two-year-old. We caught up with her to chat new endeavors, motherhood and style.
Let's start with the basics: how did you get started blogging? How has your platform evolved?
I've always loved to write and document my life - from various diaries, Myspace (lol!) and different blogs over the years. My blog, From The Heart And The Home, started as a way to document my love for interiors, sustainable style and my coming into adulthood as a wife and more recently, a mother.
It served as a virtual diary basically - chronicling whatever I was in a "deep dive" about at the time. Blogging has definitely taken a bit of a back seat now that I'm a Mama. I've shifted my focus to sharing glimpses of our life on Instagram. 
What's your WFH routine? 
It looks different everyday with a two-year-old! I try to be present with whatever I'm doing — if I'm "momming", I try not to be on my phone or look at emails. Conversely, when I'm working, I try to focus on that so my emails actually make sense.
We wake up and eat breakfast and have 'free play' where Miles just plays with whatever he's the most interested in (lately it's blocks and animal figurines). We play and read until nap time and that's when I really try to squeeze all of my own work in. I work out, read, respond to emails and get anything I can done for our brand that's launching this year! His nap is usually 1.5 hours so I am basically running around that whole time.
Sometimes, I just lay on the floor and scroll Instagram.
What's your WFH uniform?
I feel like I'm having a bit of an identity crisis with my wardrobe after becoming a Mom and 2020. I loved to get dressed - and had a pretty standard uniform of silk shirts, jeans and a blazer. After having Miles, I scooted anything that wasn't nursing friendly aside (bye-bye dry clean only silks) and opted for more comfortable and casual pieces. When we basically didn't leave the house for a year I turned to matching sweat-sets and easy-to-clean pieces to help keep me feeling put together while chasing a toddler around at home. 
Favorite hobby you've picked up or tried in the last year?
It's not a new hobby - but with so much time at home, I was able to start painting again! I even got to launch my website and make my abstract pieces available for purchase. I've also started baking sourdough bread - we were all a big fan of that new skill :).
What's inspiring you these days?
Nature, always. 
What are you looking forward to in the upcoming year?
I'm looking forward to watching Miles grow, spending more time outside as a family, hopefully hugging more of our favorite people and the launch of our kids clothing line that we've been working on since I was pregnant. 
Where can we follow you?
Instagram: @ssavannahjaydee + our kids brand @shopgoodonyou
Art: goodonpaper.co
Blog: fromtheheartandthehome.com