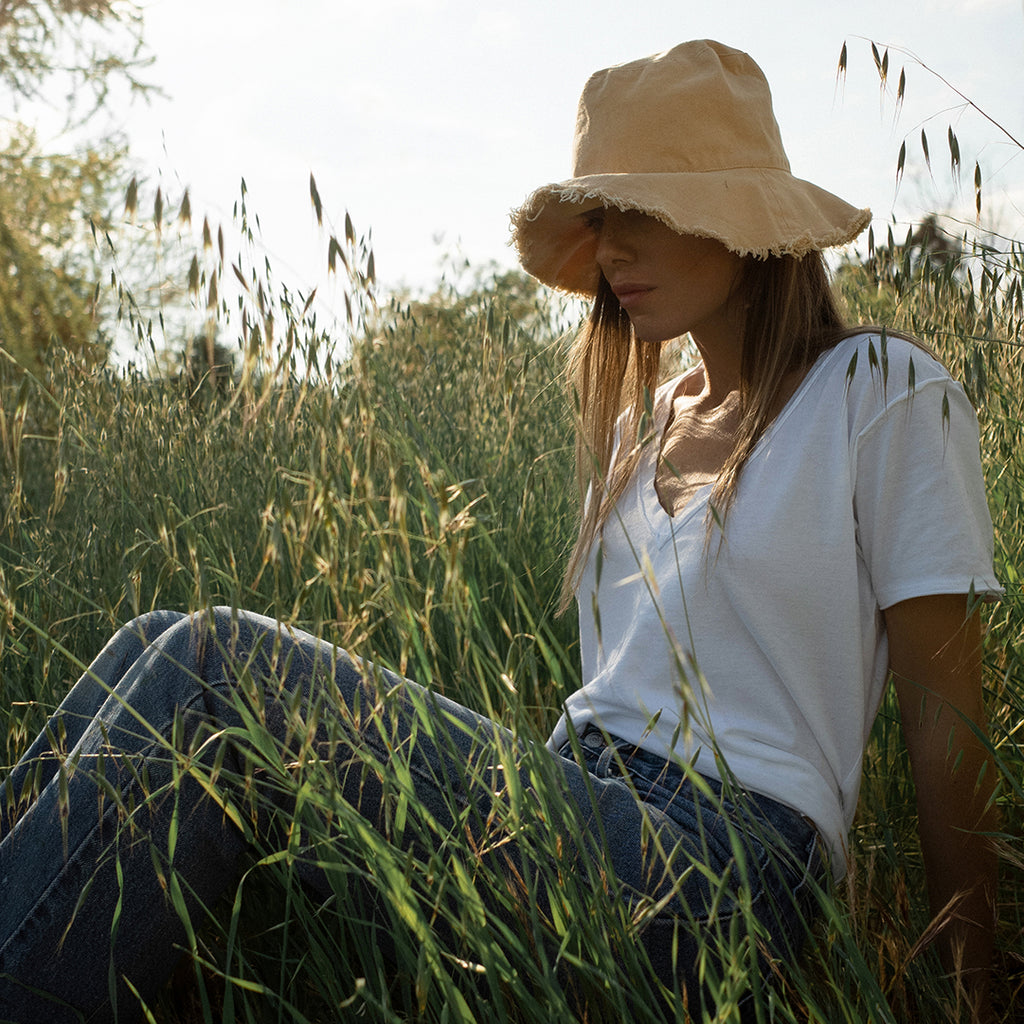 Organic State of Mind: Brenna Marriie
Looking to take the next step into a more conscious lifestyle? We sat down with Brenna Marriie, a Los Angeles-based creative about what conscious living means to her.
TELL US A LITTLE MORE ABOUT YOURSELF. 
Ahh, I think I'm dancing somewhere between dreamer / curious flower-picking / bruised knees tomboy / feeler / observer.
Though originally from Washington, I recently moved to California by way of Montana in order to connect more deeply to my heart and to meet my "someday" dream of living in the sunshine.
I am a writer, graphic designer, creative strategist and photographer, driven by a love for fostering meaningful connection, holding space for human experience, and documenting moments of awe.
I connect to my mind in journals where my thoughts and feelings have no boundaries. I know my body deeply in the process of taking self-portraits where I document and spend time with every pore on my skin, the freckles the sun leaves on my nose like farewell kisses, and the scars that remind me of the days I have walked this earth gracefully just as often as I have fallen. When I feel lost, I always find my soul in the crashing of waves at the ocean.
HOW DID YOU INCORPORATE MORE CONSCIOUS CHOICES IN YOUR LIFE?
Recognize the power of choice and connection in all things. I personally feel we are synonymous with everything, and if all things are connected, everything we do has the power to influence an outcome. Take time to ask questions. Make peace with being still. Reflect often on where you feel most present and where you might be checking out, and then do your best to show up. Notice your senses– what does it look like? How does it smell, taste, feel? Set aside time to just BE.

HOW DID YOU GOT STARTED WITH A CONSCIOUS LIFESTYLE?
I have felt a deep sense of connection to nature since I was little and spent my best days living pretty simply and running around in the woods with my siblings–wildly free and rich with imagination. We got our eggs from our chickens and had a garden we worked on as a family. Those days felt endless, but the hard work was rewarded by the presence of tiny sprouts popping up from the ground who looked just as proud to see you as you did to see them. It's easy to get caught up in the modern technologies and conveniences of today–unfathomably blessed–and yet, forget to be alive somewhere along the way. More than ever, I feel it necessary to be connected to the choices I make for the world around me, and to exist more closely with life through simplicity, observation, wonder, and reflection.
WHAT DOES LIVING A CONSCIOUS LIFESTYLE MEAN TO YOU? 
For me, conscious living is about being present with life, acting with intention and taking the time to actively think about the ways we move through the world– every choice we make–whether what we believe, the food we eat, how and what we consume, the words we say– can change the course of someone else's future. I am you are we.

WHAT INSPIRES YOU? 
Unanswered questions. Endless blue skies. Wildflowers. The smell of rain. Running through tall grass as fast as you can. Dreams that blur into day. That burst of juice when you bite into ripe fruit. Hello from a stranger. Shared existence. Laughing until your belly aches. Hugging someone for the first time. Hugging them again. Simple wisdom that comes from the innocence of children. Mindful observation. Poetry. Sunsets that melt into night. Nights that melt into mornings. On and on…
WHAT DO YOU LOVE ABOUT YOUR ZS ORGANIC STYLES? 
Gosh, the organic cotton is soft and lightweight like a cloud.
Shop Brenna's favorite piece: Organic Cotton V-Neck Tee. To shop the Organic Collection, click here.