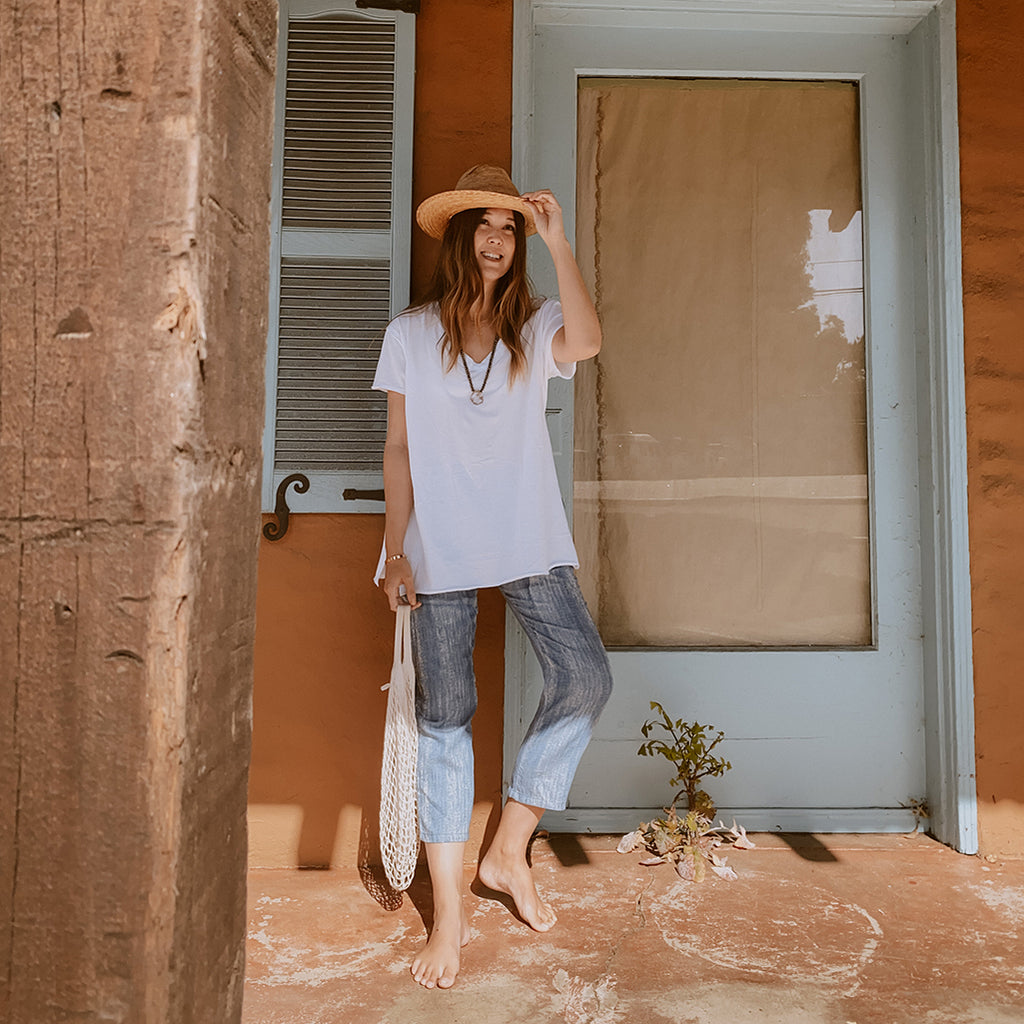 Organic State of Mind: Jen Griswold
Learn to bring sustainability home and tips for living a more conscious lifestyle with your children with influencer Jen Griswold.
TELL US A LITTLE MORE ABOUT YOURSELF. 
I'm a mom of identical twin boys. I've always been drawn to visuals and aesthetic. I currently work in interior design, social media and marketing. I have a passion for sustainability, especially slow fashion.
HOW DO YOU INCORPORATE SUSTAINABILITY INTO YOUR FAMILY, SPECIFICALLY WITH YOUR CHILDREN?
My kids are nine. Since they were little they've learned about buying secondhand rather than new. We love going to flea markets as a family and treasure hunting (they love figurines and toys from the 80's). We try to emphasize the "why" behind the things we do, why we minimize what we own and buy only what we need, why we pick up trash on every beach visit, why we use reusable bags and straws, etc.
WHAT DOES LIVING A CONSCIOUS LIFESTYLE MEAN TO YOU? 
Living consciously means making conscious decisions everyday to leave the planet a better place for my children. 
WHAT STEPS DO YOU TAKE TO LIVE A MORE CONSCIOUS LIFE?
I walk or ride my bike instead of driving whenever possible. We shop our local farmers market. We reuse whenever possible and only buy what we need. For example, our used coffee grounds go into the soil in our garden for our acid-loving plants. I don't wash my clothes after every wear (unless they're really stinky and dirty) and hang dry!
HOW DID YOU START LIVING CONSCIOUSLY? ANY ADVICE YOU WOULD GIVE FOR LIVING A CONSCIOUS LIFE? 
Once I started learning more about slow fashion, living a more sustainable lifestyle really went hand-in-hand. The best advice I can give is to start slow. Start where you're at. Conscious living isn't all or nothing. It's small steps that make a big impact! 
HOW DO YOU INCORPORATE LIVING A CONSCIOUS LIFE WITH YOUR PHOTOGRAPHY?
To me part of living a conscious life is slowing down and being present in the moment, so I try to focus on marrying colors and textures and value nuance over grandeur.
WHAT INSPIRES YOU? 
I'm inspired by nature, especially coastal landscapes.
WHAT DO YOU LOVE ABOUT YOUR ZS ORGANIC STYLES? 
I love the ZS Organic styles because they're effortless and so soft with a lived in feel.
Shop the Organic collection here. Follow along with Jen and her family on @jen.griswold.