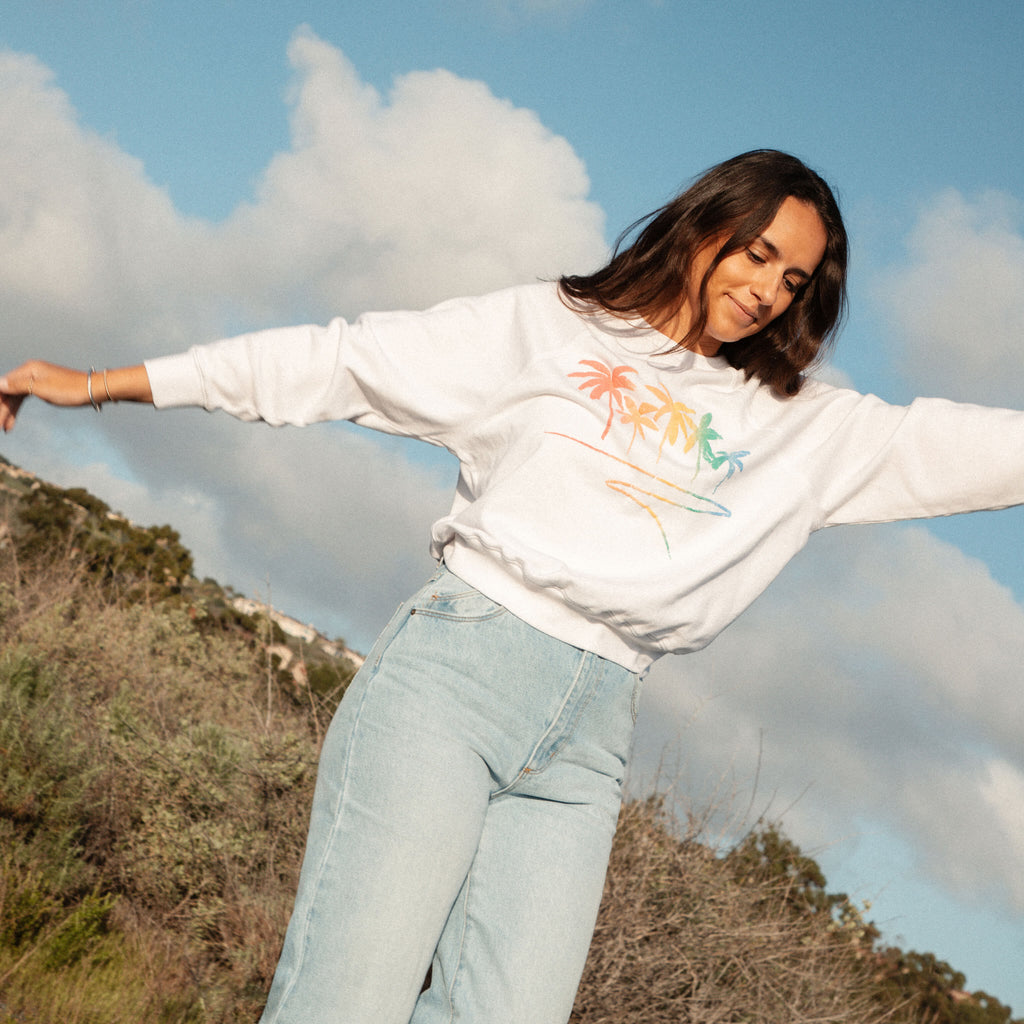 Meet the Artists: Meghan Miller
The Z SUPPLY x Artist Series is a collaborative collection of limited-edition tees featuring original artwork by artists from across the country that give back. With any Z SUPPLY purchase from now until March 31st, you can donate $1 to Inner-City Arts in support of arts education in the heart of Los Angeles.
Get to know one of the five talented female artists, what inspired her, and the story behind her collaboration tee.
Meghan Miller
In 2020, Meghan Miller started her lifestyle brand, MFMDESIGNS, which consists of original art and designs that include anything from candles to surfboards and everything in between. Born and raised in a small town in Connecticut, she finished college and ventured to Southern California, which is where she draws inspiration for her designs.
What is your favorite thing about the ocean?
My favorite thing about the ocean is that it is ever-changing. I love the colors and the waves and how they can be different every day. I think, because I have always lived by the ocean, it also reminds me of home and gives me a sense of comfort.
What does your love of art stem from?
My love of art definitely stems from my grandparents. My grandfather was an artist and taught me how to draw at a young age. I grew up outside of NYC, and my grandmother would take me to art museums like The Met, and it always resonated with me. 
What inspires your work?
The ocean is a big source of inspiration for me. I am always inspired when I travel and see new parts of the world. My friends and family also inspire me every day. I am very lucky to have met so many creative people in my life that encourage and motivate me.
What is the meaning behind your tee?
I created this palm tree design awhile back from a doodle. I wanted to create a scene I see every day, a row of palm trees, and make an abstract drawing that is just fun and playful. In general, I want my art to spark joy, so I think adding the rainbow colors was the perfect touch! 
What is your connection to Z SUPPLY?
My close friend, Katie McDonald, connected me with Z SUPPLY. I had previously shopped the brand for years and loved all the pieces. It has been such an honor to work with a company that I have been a customer of for so long. I love all the creative work Z SUPPLY does, and it has been such a pleasure to watch this collection come to life!
What does giving back mean to you?
To me, it means that I am lucky enough to be in a position to help others and give back. I think there are many ways to give back that can start with just one person or one act of kindness. I think art can be incredibly powerful and a beautiful way to bring people together and spread awareness for a certain cause.
Shop the Artist Series.