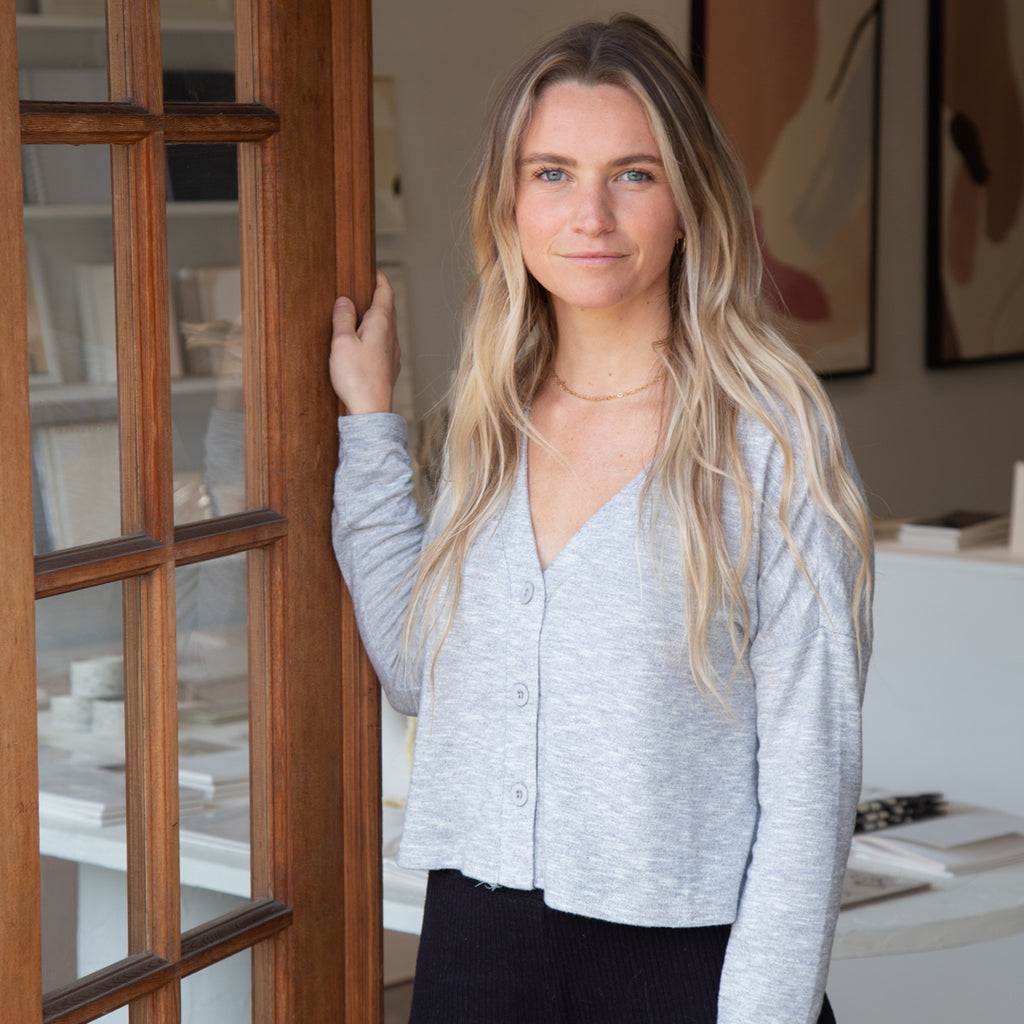 Meet Our Makers: Wilde House Paper
Our next Marketplace designer spotlight features Megan Heddinger, Founder and Creative Director of the lifestyle goods brand, Wilde House Paper. This sustainable, recycled paper goods company offers diverse options for everyday living. Read below to learn more about the brand and what sets it apart from others.
Tell us about yourself and how you started your brand?
My name is Megan and I'm the Founder and Creative Director behind Wilde House Paper. Having started my career as a Graphic Designer in the fashion industry, I always wanted to have my own designs come to life in a tangible form, rather than just on screen. Paper was a medium that I was constantly using in my everyday life – to write notes, sketch new concepts and record ideas. I started to realize how meaningful paper moments were in our lives and that I could use design to make those moments more impactful.
Intention has always been at the forefront of my design process and this helped me form a paper goods line that was centered around concepts that truly inspire you to live your best life. Whether you are integrating our Day Journal as one of your morning rituals to turn inward, or updating a frame with one of our art prints to make your space feel more thoughtful, our goods are intended to spark inspiration and intention.
What sets your business apart from others in your industry?
We find ourselves identifying more in the 'lifestyle goods' space rather than as a true stationery company. With that said, I feel like it's the strong ethos and defined aesthetic that we've created as a brand that sets us apart from other paper lines. We are unique in that all of the paper used to create our goods is not only 100% sustainable, but is 100% made in the U.S. You'll notice the slight flecks in the paper with our art prints, which we have come to love as an art element in itself, but it's because it is truly a 100% recycled paper stock.
We also plant one tree for every order with our partner, One Tree Planted, to ensure a conscious consumption circle. In addition, we've created an inclusive community around WH that we call The 'Wilde Woman' Community that embodies the true essence of our brand. As one of our consumers, you can not only buy a high-quality sustainable paper good, but you have the opportunity to be a part of something bigger and be an active participant in a community that values collaboration, inspiration and intentionality.
How has your business evolved since you started?
Having been in business for just short of two years, it has felt like WH has been such a whirlwind of growth and evolution. At the beginning, I started by creating one-of-a-kind pieces by painting big sheets of paper by hand and then cutting them down to form unique notebooks and cards. As our brand has grown and our aesthetic has become more elevated, we switched away from the hand painting to hone in on the minimal, design-forward pieces that our 'Wilde Woman' community has come to love. As a designer in your own company, I think it's so important to be constantly evolving into the newest version of yourself. My biggest fear is designing myself out of my own company by living in the past and creating designs that I'm no longer passionate about. As a founder, your company is a true embodiment of your aesthetic and I want to make sure that Wilde House is growing right along with me and my team.
What is your favorite trend you're seeing for the upcoming season?
Some of my greatest inspiration comes from color palettes and texture. I've been loving the shift into muted pastels, with colors like a grey blue that we call 'cloud' paired with a pop of muted lime green. I like palettes that are inspired by nature but applied to pieces that you use in your home. In a way, it's bringing the inspiration inside. The texture of different paper stocks is a way for us to integrate a new feeling into a line that's subtle. The combination of the color with the texture is what truly makes a piece feel unique and thoughtful.
What does home mean to you?
Home is a place that we talk about a lot as a team at WH because it is the place that we envision most of our goods living to their fullest potential. To me, home is a space that is your truest form of you. The aesthetic, the feel, the smells, the memories and so much more are all housed in that one place that we call home. So really, if you think about it, home can be a feeling that you bring with you. Home can be a heartfelt gesture or a standout memory that defines who you are and a safe place that you can always come back to internally.
Can you tell us anything special about your pieces that we are featuring for the holiday season?
Our current collection is truly our best yet. It feels like the first time that we are creating with our feet firmly on the ground. The pieces from this new line are very intentional in design and function. One of my favorite pieces is our 2021 Intentional Calendar because it's such a special design that will carry us all into a new year of hope. This year has been hard on all of us and I love how this calendar feels like such a breath of fresh air, with each month setting the tone with inspired ideas, a monthly color, and a new mood to live out the month as your best self.
ABOUT WILDE HOUSE PAPER
Wilde House Paper is a sustainable paper goods collection created in California. 
Intentionality is at the heart of our brand, as it makes each piece a valuable addition to your curated lifestyle.
Created in California using the highest quality sustainable materials, our paper products are printed on luxe recycled paper stocks. From our paper stock to our packaging materials, we are dedicated to choosing sustainable choices whenever possible (and there is still a lot of work to be done). All of the paper in our line is recycled and that's important to us. Sustainability and intentional decisions are at the forefront of our design process from concept to final packaging. From our paper mills located in Michigan, Boston and New York, to our printing partners spread across California, all of our products are 100% made in the USA.
Through our partner, One Tree Planted, a nonprofit organization with a focus on global reforestation, we have committed to planting one tree for every order placed. Our hope is that these efforts not only give our community a simple way to give back, but also put resources back into our Earth that our goods are made from. We have chosen to offer the option to plant a tree in three locations that are currently in need : California, the Amazon Rainforest and New South Wales, Australia.
Megan is wearing our Cher Sweater Slub Top. Follow @wildehousepaper and shop Wilde House Paper here.