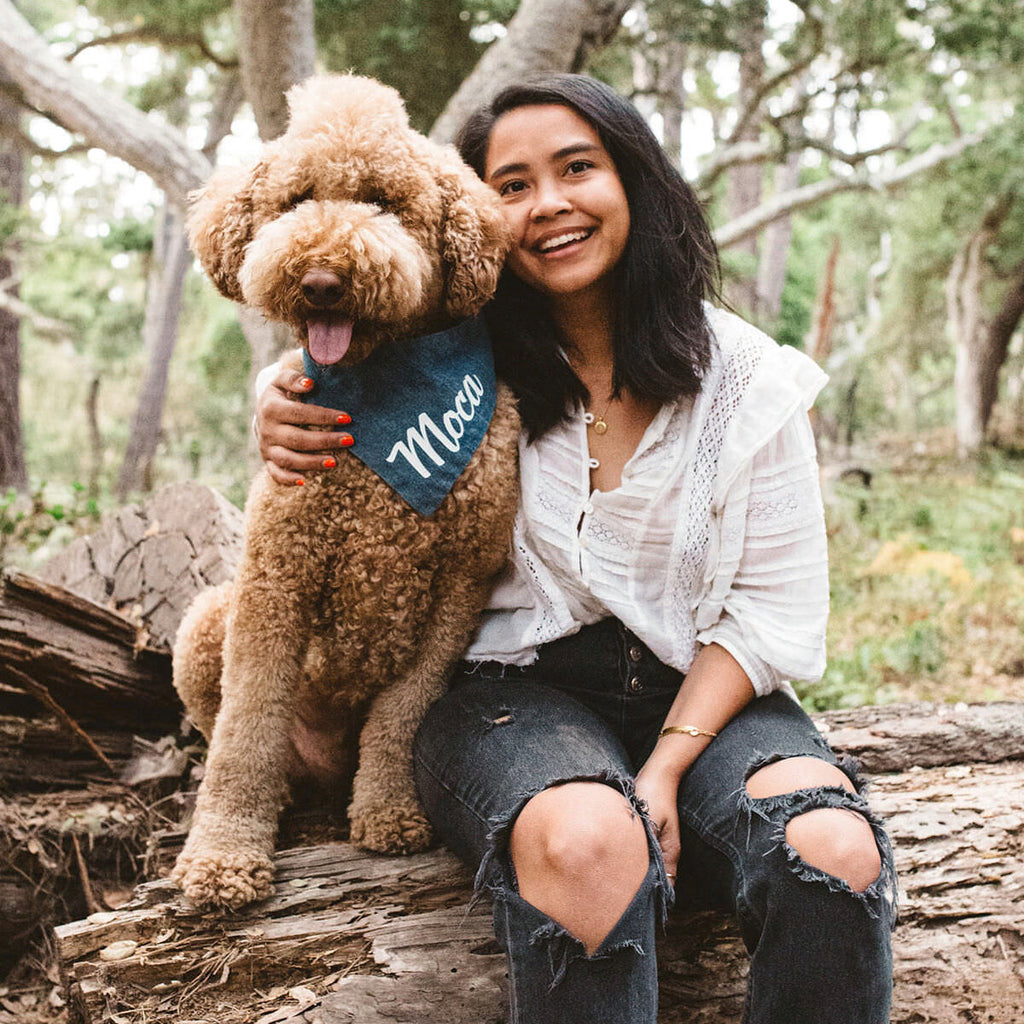 Meet Our Makers: The Daily Moca
Khrystyn Buelva, the owner and creator of The Daily Moca, was inspired to start her business when she adopted her adorable pup, Moca. The Daily Moca creates modern & classic pet neckwear for man's (and woman's) best friend. Khrystyn believes that every dog deserves the same quality, style & fit as their humans. Using only fabrics that are handpicked for durability and comfort, each accessory is handcrafted in the U.S.A. Read below to find out more about how her unique brand started and why she does what she does.
Tell us about yourself and what inspired you to start your own business.
My name is Khrystyn, the designer and owner of The Daily Moca. I am from Seattle, WA, but have enjoyed the sunshine in Orange County, CA, with my husband, Angelo, for the past seven years. Growing up, I had always loved dogs and hoped to have one of my own. In 2015, that dream came true. We brought home a two-month-old labradoodle and named him Moca. 
I had been wanting to get back into sewing for quite some time, so I found a used industrial sewing machine off craigslist. I started experimenting right away with different patterns of bandanas so that they would fit properly on Moca. Structured and well-fit apparel has been important to me as a fashion designer for the past decade, and I want to model that same concept to my pup.
The Daily Moca was a creative project that accidentally turned into a business I never intended to have. Since then, I brought home another pup, a sheepadoodle named Bruno, and have spent many late nights and weekends sending dog bandanas to all dog lovers who feel the same way I do. 
What makes your brand stand apart from others?
To me, there is something special about handmade items. We make small batch dog accessories designed thoughtfully, delivered, and created specifically for the special furry members of the family. 
Where do you find inspiration for new products?
Feeling and seeing textiles and fabrics are a great source of inspiration for me. I am inspired by what I can make using different materials and seeing how they come to life. Another source of inspiration is others' success. I love listening to podcasts and learning about different entrepreneurs' journeys, and extracting learnings from them. 
Share your proudest moment as a small business-owner.  
There are  a lot of things I am proud of and one of them is being considered a "small business owner" and overcoming imposter syndrome that comes time and time again. But what encourages me to continue to move forward are the connections and relationships I've made along the way. 
What have you learned most about yourself through the process of building a brand?
As a small business owner and a freelance fashion designer, I found that I enjoy having a structured system placed within my schedule. As a creative person, I feel that it helps me have a less cluttered mind when I am organized. It allows space for me to be creative, crosses off big projects on my plate, and makes sure I have time for rest and family.
What advice would you offer to someone else looking to start their own business?
I feel that we all struggle with perfectionism because our brands are meaningful and so personal to us. I have learned throughout the process to start first, start building that idea and explore ways to put it out there. 
There's that 80/20 rule where you're 80% there, and 20% still tweaking, but you're going to extract learnings from that, knowing where you can be better. Often no one cares about that 20% you care deeply about, so don't let that fear stop you from starting your own business. 
How do you relax, refresh, and reinspire yourself?
Life can be exhausting as we navigate every aspect of it. What helps me is stepping away from my work and laying down on the floor, cuddling my dogs. Or as simple as drinking coffee at my favorite local coffee shop with my husband.
Why did the Z SUPPLY Marketplace feel like a good fit for you?
I love this brand; it holds a special place in my heart. I have had the privilege of being part of the design team and learning from the best of the fashion industry. 
Shop The Daily Moca and other Marketplace finds here.