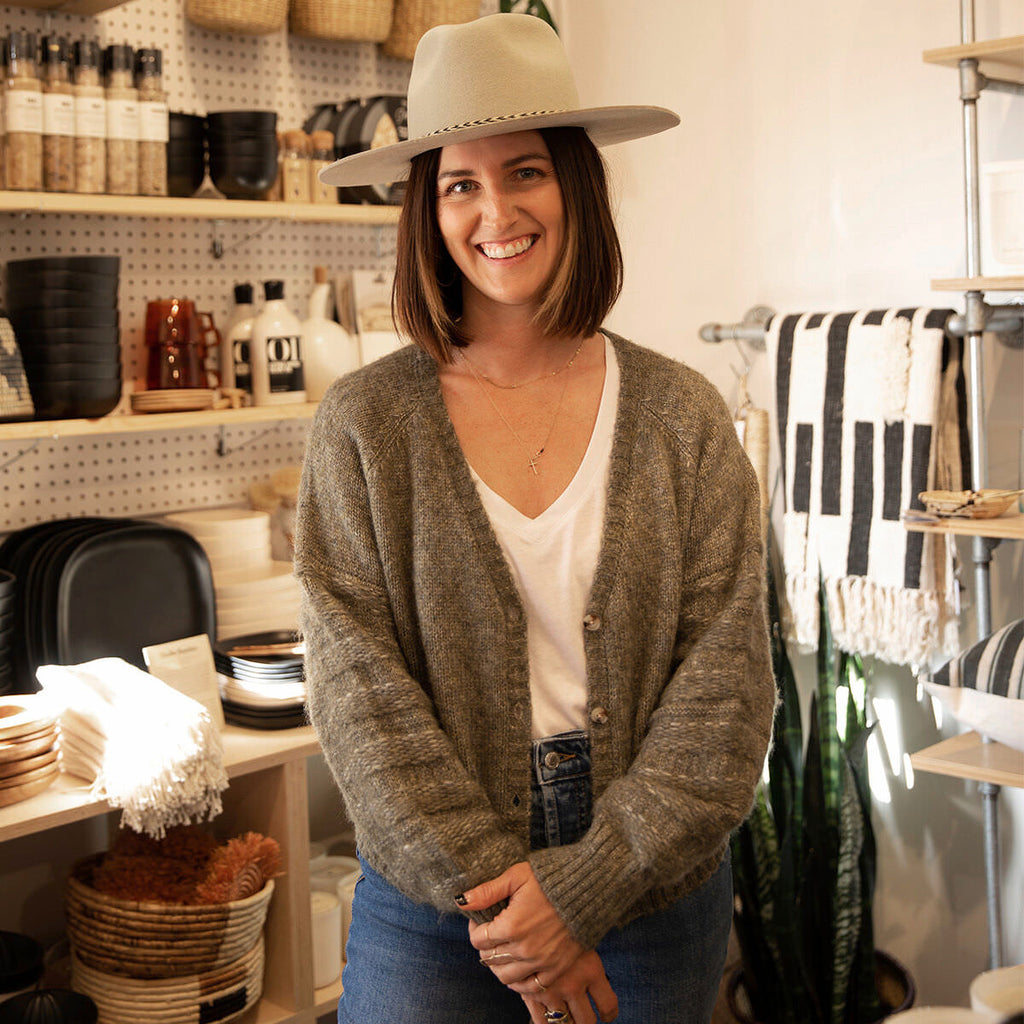 Meet Our Makers: ADOBE by Jess Vargas
Jess Vargas is one of the artists who make up the collective at The Rising Co. She started ADOBE by Jess Vargas, vintage-sourced and hand-crafted home goods, to be a conscious brand where the makers and sources are of great importance. Adobe effortlessly combines Southern California vibes with an eclectic mix of items that weave a story of travel, discovery, and belonging, providing the modern home with access to well curated, unique objects from around the world. Handcrafted in the space in Oceanside, Adobe utilizes thoughtful merchandising and details product styling for a one-of-a-kind experience. Read more below to find out how Jess founded her brand and became a part of The Rising Co.
Tell us about yourself and what inspired you to start your own business.
I started my career in retail over 20 years ago. For 10 of those years, I worked at Anthropologie as a part of their visual team. I was the District Visual Lead for Southern California and I traveled as a Store Opening Visual Lead. While still working there, I decided it was time for me to start a new chapter in my career. I left Anthropologie with the intention of growing my interior styling and design business. I quickly found myself working with more and more local businesses. I have been able to work with an amazing group of business owners (who are mainly women) to help to grow their businesses through store design and merchandising. 
I have always wanted to have my own shop, but thought it would be within apparel. Over the past few years of working for Anthropologie, and within my styling projects, my love for home décor has grown. It was also through my styling projects that I recognized there was an opportunity and need within the San Diego market. In 2018, I found out I was pregnant, so decided to put the shop on hold and continue growing my design business. That holiday season I was working on a Rais Case Pop-up in Brentwood, and decided we needed textures and different elements to elevate the setup. I went sourcing for vintage baskets, ceramics, and fabrics to make into pillows and throws. This was technically the first Adobe collection. Fast forward a year and a baby girl later and I officially launched Adobe by Jess Vargas with the opening of the Rising Co. in Oceanside, CA. Ask most small business owners and they will say their business is their child, so I guess you could say I had twins in 2019, haha. I have since launched our website, and currently have a pop up residency at One Paseo, in Del Mar, California, through the end of the year. We are also actively looking for a permanent location to call home in 2022, where we will have a full assortment of home décor & furniture for your entire home and continue to offer interior styling services. 
What makes your brand stand apart from others?
We create an experience through the product we curate and the story it tells. There is thought placed on everything, from the merchandising, to the packaging, to the scent of our candles. We strive to be an inspiration to everyone who walks in our doors or visits our website. We focus on sustainability and working with local and global artisans, ensuring fair trade and pay. I have been very fortunate over my life to meet and work with many different types of artists and creators. This has given me such a deeper understanding and appreciation for the products and art they create. It also gives meaning and a story to what we are doing. 
Where do you find inspiration for new products?
Traveling has always been a huge part of my life, and an even larger form of inspiration. People, culture, and nature are also huge inspirations but I also think it's everywhere you look, it's up to how you as an individual interpret it.
Share your proudest moment as a small business-owner.  
I think it would be a moment from this year. On New Year's Eve day of last year, I went on a walk with a friend and we set our intentions for our businesses in the new year. One of mine was to open a pop-up shop within the year. Fast forward 5 months and I signed a lease for a summer pop up in Del Mar. Within 4 weeks I had hired a team, curated a collection of products, built fixtures, floor-planned, merchandised and opened a full store. We did so well over the summer that we extended through the end of the year. It has definitely been a whirlwind, but it has given me the confidence that I can do so much more!             
What have you learned most about yourself through the process of building a brand?
That I am much stronger & more determined than I ever thought. I have been able to grow both my design business and Adobe during a pandemic while being a new mom. It has made me appreciate myself and my community in ways I never have. 
What advice would you offer to someone else looking to start their own business?
It's ok to mess up, you are going to a lot, but give yourself grace; it is where I have learned the most. 
How do you relax, refresh, and reinspire yourself?
I have a 2-year-old, so there is not much relaxing happening, haha. But spending uninterrupted and unplugged time with her is one of my favorite things to do. Even though we haven't traveled as much lately due to restrictions, travel definitely checks all the boxes for me. I love exploring new places and also re-exploring familiar places, but through the eyes of Ziggy.
Why did the Z SUPPLY Marketplace feel like a good fit for you?
I love working with other women owned businesses. It truly inspires and motivates me in the largest form.  I also am a big fan of comfort, versatility, and ease! 
Stay tuned next week for another spotlight on a Marketplace-featured artisan with whom we are so excited to partner with this holiday season.
Shop ADOBE by Jess Vargas and other Marketplace finds here.