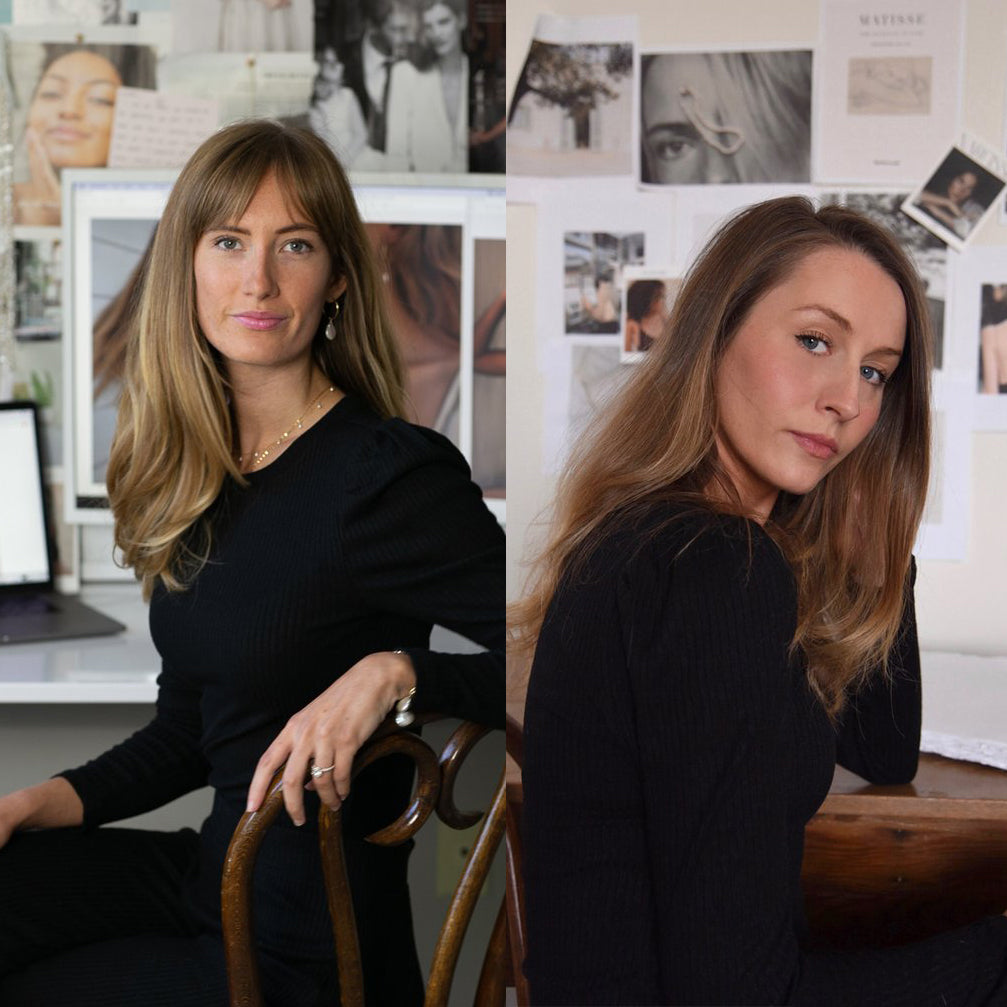 Next up in our Marketplace series spotlight we have the creative team of Kirsten Bosch and Hilary Dempsey, owners of FLEURI. Based in Los Angeles, this dynamic duo creates sophisticated, timeless pieces using local materials. Read below to learn more about how this unique brand began and what inspires them. 
Tell us about yourself and how you started your brand?
Kirsten: My name is Kirsten Bosch, co-owner and founder of FLEURI, and I have really enjoyed building this company from the ground up. It was a dream of mine to own a company, but FLEURI really became a brand once Hilary joined. I live in Seattle, Washington with my husband and two dogs and if you were to walk in my home, you would notice my beloved but ridiculous pink couch, lots of candles and photos everywhere. I'm a lover of living in the moment yet always feel a pull to be a bit nostalgic. 
Hilary: My name is Hilary, I'm an artist, designer, and co-owner of FLEURI. I live in Los Angeles, California with my fiancé Ross and my dog, Rosie. I've always been interested in art and design because I love making things with my hands as well as the idea of building something from nothing. FLEURI started as a dream Kirsten had of starting her own business, and she looked to me to help build the creative side. From there, almost daily, we found ourselves strolling through the jewelry district and learning as much as we could about materials and manufacturing.
What sets your business apart from others in your industry?  
K + H: We have a very simple mission; to inspire, empower and support women through our craft. We encourage women to invest in practical jewelry rather than temporary fashion. 
How has your business evolved since you started?  
K + H: We launched the brand with one product and we now have a full collection. We laugh now, but in the beginning, we used cardboard boxes and hand addressed every shipment. Other than that, our mantra has remained true: quality first, sophisticated staples and attainable luxury.  
What's the most positive thing that has happened to your business this year?
K + H: "The day you plant the seed is not the day you eat the fruit. Be patient and stay the course." - Fabienne Fredrickson. We started this business with no funding. We invested our savings into this dream and have continued to reinvest in the business. This year we've grown enough to see our hard work pay off and think our "little seed" is finally sprouting. 
If you could go back and tell yourself one thing before beginning your career, what would it be?
H: Don't worry so much, knowing where you're supposed to be will come naturally, in time. It's okay not to have all the answers in the beginning.
K: I think deep down you always know what you want to do, so bet on yourself and chase what you're passionate about. 
Where is your go-to creative space and what does your creative process look like?
H: I'd say my "go-to" creative places are split between my studio at home and traveling the world. My studio is my sanctuary. It's usually filled with miscellaneous art materials, books, a very worn easel and drafting desk, things that spark my creativity. I also love to travel. To me, there is nothing more exciting than immersing myself in unfamiliar places with rich history and culture. I love to see what design looks like around the world and study how it's evolved over time.
ABOUT FLEURI 
FLEURI was started in the heart of Los Angeles by two women who shared a passion for collecting timeless jewelry pieces. We began searching for local materials to create the jewelry pieces we always dreamt of, but could never find. Our intention quickly became to create everyday jewelry that has a sophisticated and timeless touch. We name each piece after a historic woman, in honor of the amazing women that have personally influenced our lives. 
Our mission is to source the best products and materials. Whether it's our lightweight hoops or premium pearls, we won't tire until we find the very best. We always have you, our customer, in mind and want FLEURI to live as your forever heirloom.
Kirsten and Hilary are wearing our Kaiya Rib Long Sleeve and Gerri Rib Pant. Follow @shopfleuri and shop FLEURI here.