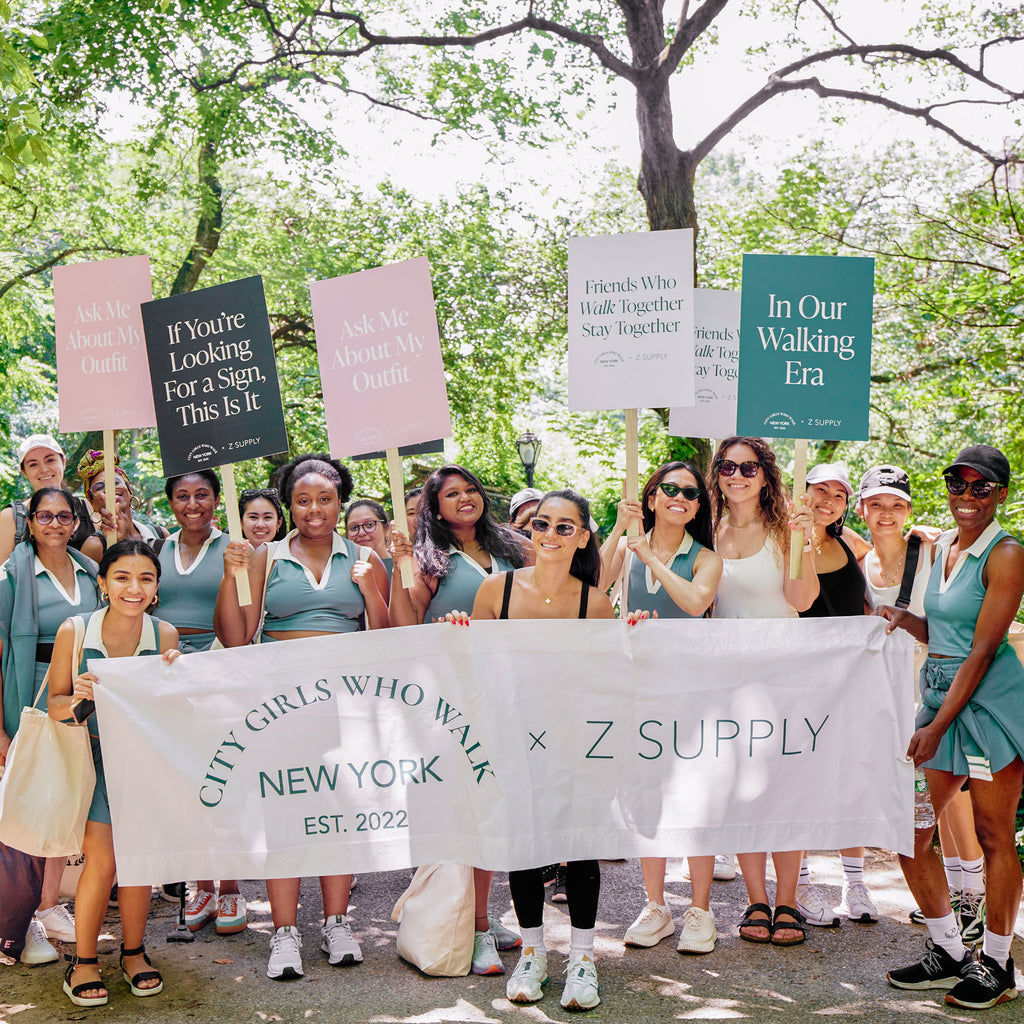 Z SUPPLY Takes Over NYC with City Girls Who Walk
Last week, we partnered with the official walking club of New York, City Girls Who Walk, to bring Z SUPPLY to the big city and meet new friends while getting our steps in, starting at Mixology.
City Girls Who Walk was founded in 2022 by Brianna Joye, and what started as a way for her to connect with new friends turned into a walking club that meets every Sunday in Central Park and brings hundreds of women together. She has brought together a community of women who are seeking to make new connections with the hope of building lasting friendships.
With such an inspiring story and community, we were so excited for the opportunity to partner with City Girls Who Walk and Brianna and further expand our own community of strong and supportive women. 
Before we started our walk, we invited the City Girls Who Walk and Z SUPPLY communities to one of our favorite boutiques in Manhattan, Mixology. Guests started lining up at the store three hours before the event, and by the time we opened the store, there were over 300 women lined up, excitement all around.
The first 150 guests received free Z SUPPLY Active sets and socks, and the next 50 received a free pair Z SUPPLY Eyewear and socks. We were giving away pieces from our latest tennis-inspired activewear drop, including the Hot Shot Dress, Team Player Color Block Tank, Match Point Skirt, and matching sweatshirts. All gifts came with a limited-edition Z SUPPLY tote bag. As guests received their gifts, they changed into their new Z SUPPLY Active sets and socks for the walk. We loved seeing everyone's reactions as they walked out of their dressing rooms in their new outfits. We could feel their confidence in their smiles.
Guests also enjoyed sweet treats from Orwashers Bakery, light snacks from Hal's New York, and refreshing beverages from Saint James Iced Tea while mingling in the store. The boutique quickly filled with women shopping, socializing, and getting ready for a walk through the city.
Dressed in Z SUPPLY Active, we hit the streets of Manhattan towards Central Park. As hundreds of women took up cross walks and blocks of the city, our team was able to truly see the impact of City Girls Who Walk.
With one of the biggest City Girls Who Walk turnouts ever, we met women of all ages and from all walks of life who were there to better themselves in some way, and we loved seeing how excited everyone was to wear their new sets.
We're so thankful to Brianna and City Girls Who Walk for partnering with us on this week's walk. We also appreciate our long-time friend and retailer, Mixology, for opening up their store for our community. 
Finally, of course, we are honored to have spent the day with the many women who joined us. It was truly a fulfilling day of health, wellness, and connection that we will never forget.