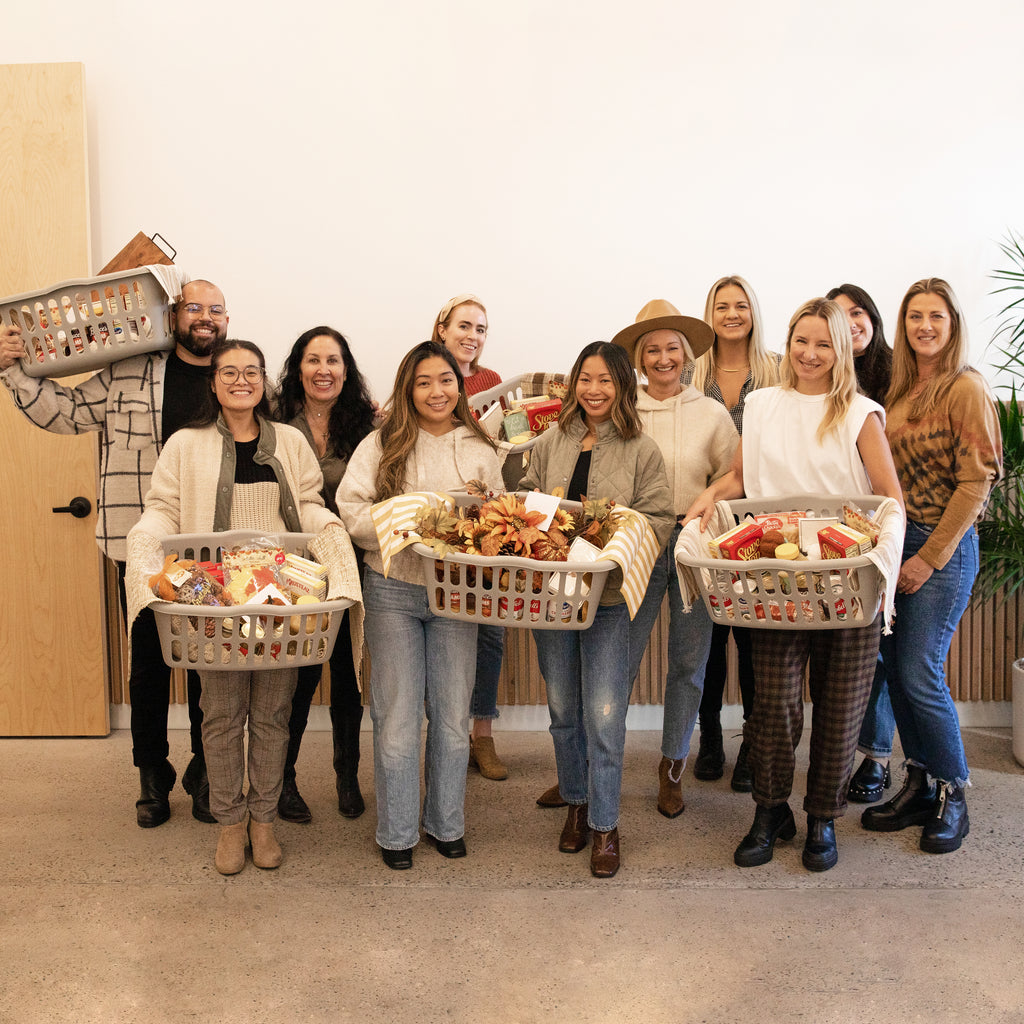 Z SUPPLY Foundation x Orange County United Way
Giving back is at the core of who we are—around the holidays and always. It's why we started the Z SUPPLY Foundation in 2021.
This year, we teamed up with Orange County United Way to support two give-back programs, Thanksgiving Meal Baskets and the Adopt a Family Holiday Gift Program. Since its inception in 1924, United Way has brought millions of people together to build strong, equitable communities where every member can thrive, and we're proud to partner with them this holiday season.
For the Thanksgiving Meal Basket Program, the Foundation purchased food items to pack into 10 baskets to feed 10 local Orange County families in need. This included our favorite Thanksgiving classics like stuffing, mashed potatoes, gravy, cornbread, and more.
Once we purchased and brought the groceries back to Z SUPPLY HQ, 20 employees volunteered and came together to pack all the necessary items for a memorable Thanksgiving family meal with love and care. Sharing those moments together, we were reminded of everything we have to be grateful for this year.
As part of the Adopt a Family Holiday Gift Program, the Foundation adopted 10 families with two to three children each to make their holiday dreams come true. We purchased various toys, games, and clothing that we found on the children's holiday wish lists.
Once we gathered everything at HQ, 15 employees volunteered to wrap these gifts with special, personalized touches. With holiday music in the background and ribbons flying around, the holiday season was in full swing in the office.
After everything was packed and ready, we had the pleasure of meeting the families that we created baskets and bought gifts for when we made the delivery. We enjoyed getting to know each mother, father, and child, and seeing the joy on their faces was an unforgettable experience. We feel fortunate to be able to help make their holidays a little brighter this year and look forward to continue doing so.
Learn more about the Z SUPPLY Foundation, all of our giving initiatives, and how you can get involved.
Happy Thanksgiving!