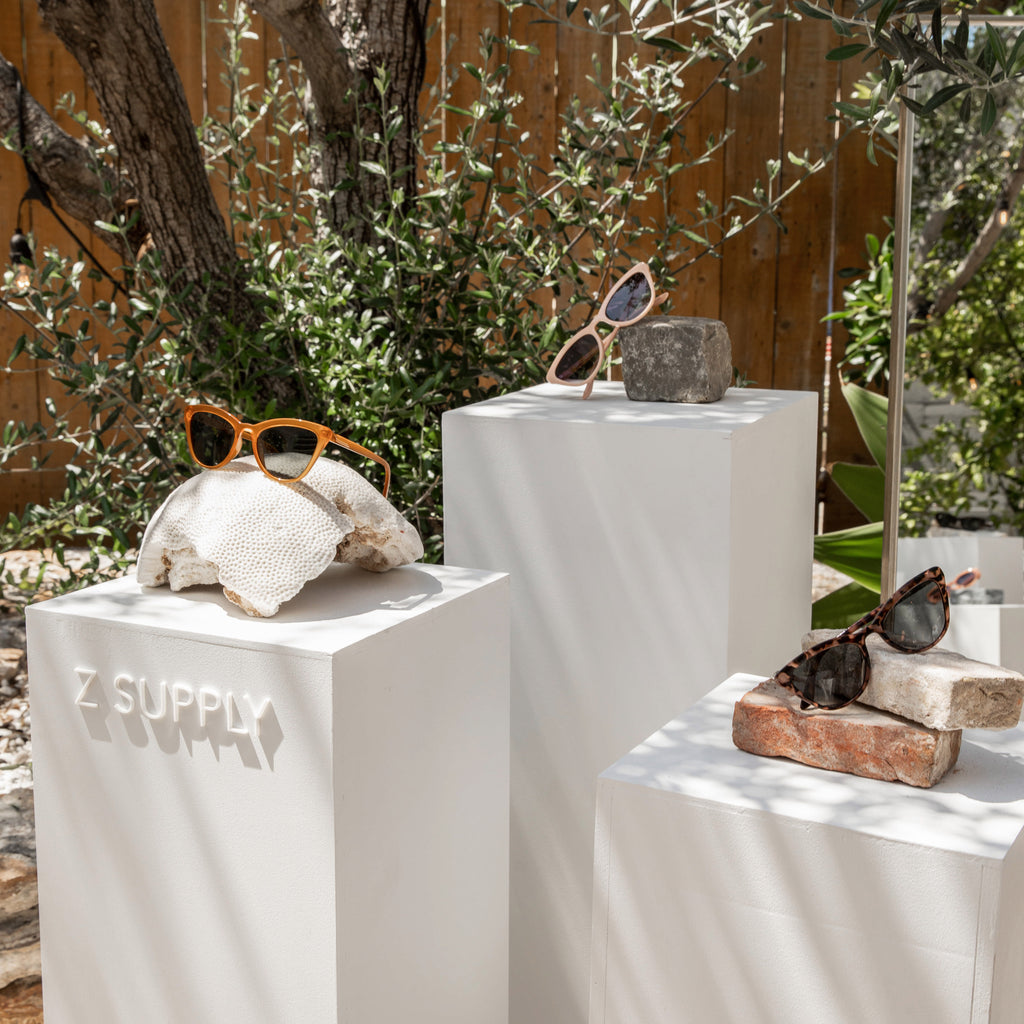 Z SUPPLY Eyewear Launch Event
As one of our most highly anticipated launches in Z SUPPLY history, Z SUPPLY Eyewear needed to be celebrated in a big way. To do so, we partnered with Plant Food + Wine in Venice Beach, California and invited our closest friends to join us.
It was a beautiful, sunny day near the coast, and the venue was filled with many smiles and surprises. Our guests were able to try on and take home their own new pairs of sunglasses while enjoying the music, drinks, treats, and various activations.
Plant Food + Wine provided a delicious spread of locally sourced, plant-based hor d'oeuvres as well as a curated collection of wine and beverages. For sweets, Sweet Laurel Bakery provided an assortment of healthful desserts that were gluten-free, dairy-free, and sugar-free.
With the activations at this event, we wanted to do something extra special for our guests. Each pair of Z SUPPLY Eyewear comes with a collapsible case and microfiber cloth, so we had designer and illustrator Ashley Munson customizing one-of-a-kind cases and Nico from Ceremony Chainstitch embroidering our microfiber cloths for a personalized experience.
We also had artist Lena Binley draw line art portraits of our guests in real-time with the added touch of colorful sunnies. Guests like Coco Cuenco Gustafsson had their portraits done throughout the afternoon.
Finally, no Z SUPPLY event would be complete without a gifting suite. As the weather is getting warmer, we stocked our gifting suite with our bestselling spring pieces as well as some upcoming summer pieces. From comfortable, matching sets to feminine, floral dresses, our guests like Amanda Schweers, Britt Ramjit, and Annalisa Barr were able to find the perfect outfits to pair with their new sunglasses.
Amber Harrelson and Alana Hosn styled our the Traveller Sunglasses and the Everyday Sunglasses with our Poolside Button Up Shirts while Emily Rose Klein had some fun with the Rooftop Sunglasses.
If you couldn't make it, you can shop Z SUPPLY Eyewear here.
You can also take our quiz to find your perfect pair.