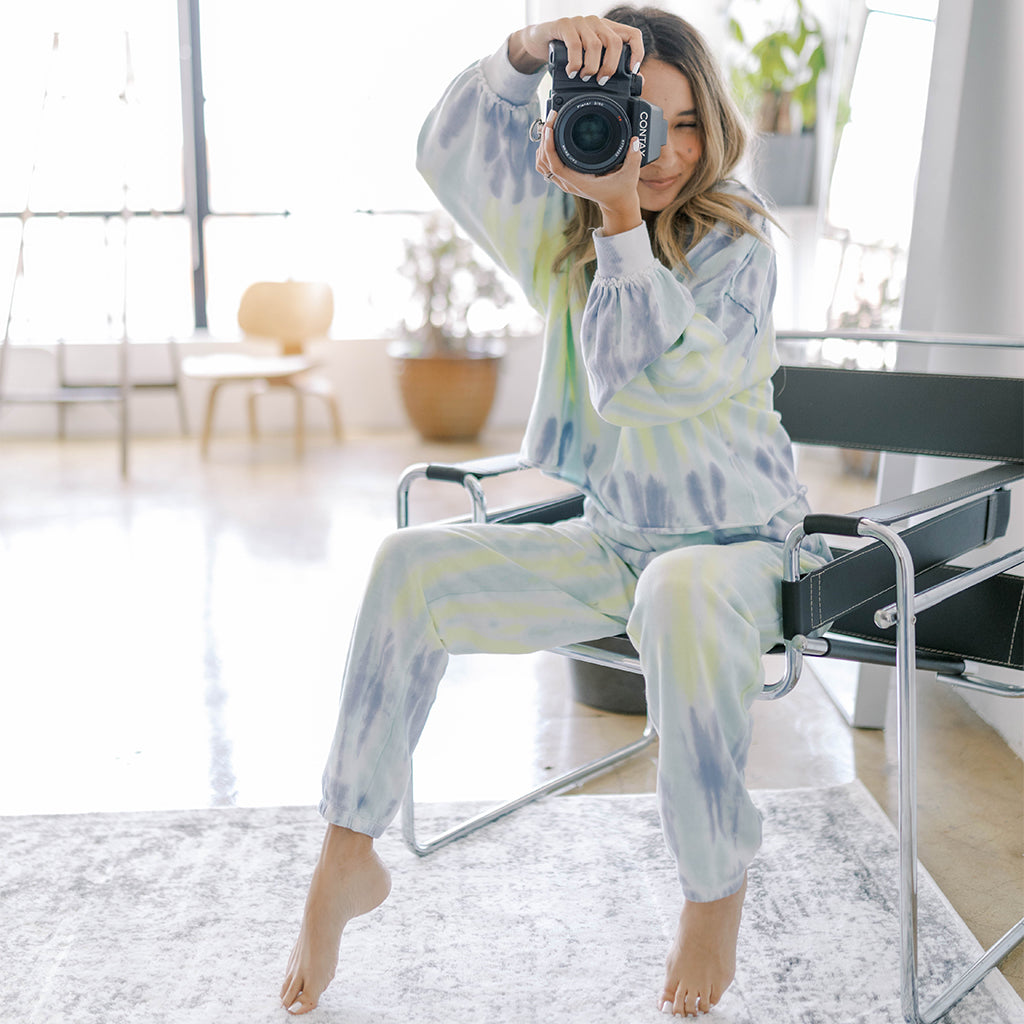 WFH With: Nardia Niles of Foolishly Rushing In
Meet Nardia Niles, bridal photographer & co-founder of Foolishly Rushing In.
We sat down to chat style, inspiration and her long-time love of loungewear.
Let's start with the basics: how did your company start?
We actually fell into wedding cinematography by accident. One of my husband's best friends from his music days was getting married and asked if we could shoot his wedding. Dan (my husband) actually started doing video for commercial work first and I was always his second; so of course when it came to weddings we did the same. It was so surprising how it grew so quickly, how much fun we had growing a business together, traveling, and supporting each other.
I think that's why we have such a passion for doing this, we love meeting new people and experiencing life together. Five years ago we decided to add photography. Dan taught me. Soon enough I realized that I loved everything about weddings and I love making women feel beautiful from behind the lens.
What's your WFH routine?
The first thing I do every morning is read for about 30 minutes. I then head downstairs, take the pups to the bathroom, grab a glass of water and take my vitamins. Some days I'll work out, and other days I'll just get ready for the day early. I find that taking care of myself, having a routine, and loving the way I look in my comfy clothes really does make me more productive and enjoy the day. Even though no one else is seeing me throughout the day except my husband, I've found I'm a much happier person when I choose to look good (even if just for myself)! 
What's your WFH uniform?
I loved lounge wear during quarantine and even before quarantine - especially since I'm constantly on my computer all week editing. My new favorite is The Rayne Organic Slip Dress. It's the comfiest - I'm obsessed! 
Favorite hobby you've picked up or tried in the last year?
No new hobbies but definitely learning to make more "me" time to simply live. In a world where working non-stop is praised, it's too easy to believe working non-stop is actually a good thing. As a creative, all of that good productive energy flows from you when you have balance and something of substance to give to the world.
"As a creative, all of that good productive energy flows from you when you have balance and something of substance to give to the world."
What's inspiring you these days?
Music and movies are my go-to for inspiration. I'm also a bit obsessed with creating mood boards for my clients. I LOVE fashion.
What are you looking forward to in the upcoming year?
Italy is on the top of our list. We have two weddings there this year and I've been wanting to visit Europe for a while (I've never been)!  I'm so glad that things are opening up again and I'm just crossing my fingers that things that just look up more and more. On a personal note...I can not wait to see a live concert!
Where can we follow you?
You can find me on instagram at @FoolishlyRushingIn and our website foolishlyrushingin.com. 
Shop the story here.