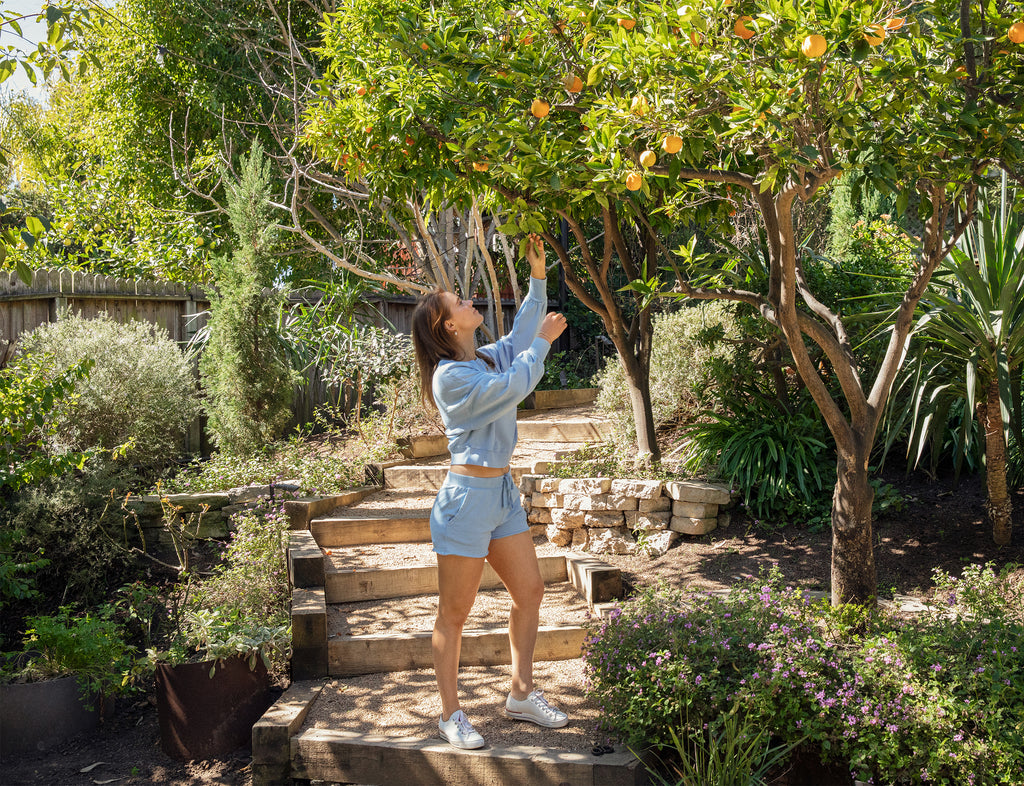 Introducing WFH With: our new monthly blog series about women we admire.
Say hi to Melissa, an Italian-trained private chef - and truly inspiring friend of the brand. 
At the beginning of the quarantine, Melissa identified a need in her community: people needed to find positive, healthy ways to occupy their time at home. Her answer was to start delivering homemade pizza and pasta-making kits.  These delicious DIYs took off - and Cucina Melissa has been growing rapidly ever since.
We caught up with Melissa at home about style, work and pasta (with some bites of pastries in between).
What's your WFH routine?  
I'm a morning person and love to start my day early with a workout or a meditation. After that it's lots of hydrating (I put oregano oil in my water, always!), coffee, and breakfast. Typically I'm in the kitchen M-F but if I work from home, I like to take advantage of that time to catch up on emails or to write down recipe ideas for the
upcoming season.
Every day is different in our lively kitchen but I always start by feeding the sourdough starter and talking to my assistant, Miles, about our schedule. We start our prep which involves lots of pasta rolling, cake making, and packaging colorful produce that goes into the kits!
Lately I've been loving ending a WFH day with a surf session or a walk by the beach. After that I like to wind down by cooking with my boyfriend (he loves to  cook!), enjoying a nice glass of red wine, and taking a hot  relaxing bath.   
What's your WFH uniform?
For sure my Z Lounge Go With The Flow Pants. No joke they are the most  comfortable lounge pants I've ever had.  
Favorite hobby you've picked up or tried in the last year?  
Painting!   
What's inspiring you these days?  
Everything in bloom and the produce that is in season! I love when Spring comes around because it's an opportunity to create dishes with fresh new produce and beautiful plants. Even something as simple as seeing gorgeous green or purple artichokes or pea tendrils at the farmers market inspires me.  
What are you looking forward to in the upcoming year?  
Traveling again! I've missed it so much. I'm going to Puglia or Sicily the second I can get on a flight.   
Where can we follow you? 
On Instagram @cucinamelissa_ or on my site www.cucinamelissa.com. For any dinner parties or event inquires email me at melissa@cucinamelissa.com.
Shop the story—Melissa is wearing our Lia Washed Pullover and Marina Washed Short. Also Featured: The Sunshine Series Organic Cotton Net Tote, The Hive Ceramics Kitchen Set and Nesting Bowls, and FLEURI Camille Earrings.