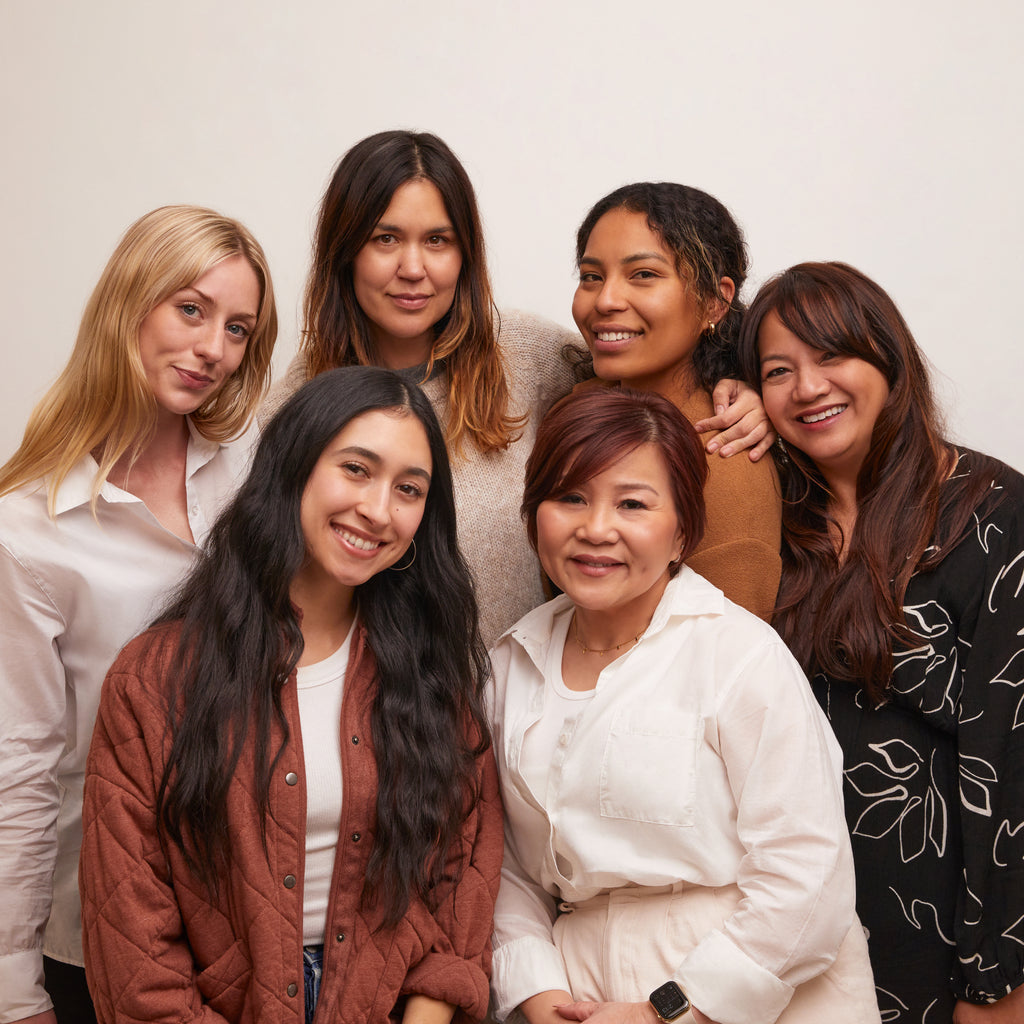 International Women's Day: Women Inspire Women
As a brand that prides itself on bringing simplicity, comfort, and casual-cool style to every woman's closet, Z SUPPLY puts women at the forefront of our minds everyday, from the design and production process to overall company culture. 
This year, in honor of International Women's Day, we chose to highlight the women of Z SUPPLY, the women that inspire us everyday. We sat down with several Z SUPPLY employees to hear directly from them about the women who inspired them and made them who they are today.
Ann Fong
Chief Financial Officer / Chief Operating Officer
Who inspires you? 
The women who paved the way for other women so we could vote, have a voice, and a career. The women who supported other women. The women who pushed the envelope and took leadership roles in industries that were primarily male-dominant. The men who supported and encouraged women and helped them become great leaders.
Who helped you become who you are today? 
I don't think it would be fair to say one person. It took a village to get me where I am today. My supportive parents who put me through college, my husband who picked up the slack when I had to work late nights, my son who sacrificed time without me, so I could pursue a career, Bruce Stump who gave me an offer at Ernst & Young on the spot during my interview, which really help pave the way to my career as an accountant, the Founders and CEOs/Presidents who trusted me and gave me the opportunity to help run their companies alongside them. My amazing co-workers who had excellent work ethic and helped me reach our company goals, my executive coach who helped me understand my strengths to be a better leader and Lisa Locklear, a CFO colleague who mentored, encouraged, and supported me to be better at my craft. My family and friends who unconditionally loved and supported me, because without them, I wouldn't realize how important it was to surround yourself with great people.
Who has impacted your career in the fashion industry?
There were many people who impacted my career in the fashion industry. Doug Collier, Volcom CFO who had the foresight to hire me out of Ernst & Young. I thought I was going to give up accounting, but Doug showed me how working for an apparel company could be rewarding and fun at the same time. The owners of Paul Frank Industries who allowed me to lead and assist in eventually selling the company to Saban Brands. Trina Turk who is an amazing person/designer and showed me that you could be great at what you do and still be really happy and do the other things you love. Gloria Brandes, Founder of BB Dakota, who allowed me to help run her company, which I eventually sold to Steve Madden.  All these people trusted me and gave me a set of keys to their company to help operate and drive them to success. I am grateful to all the lawyers and bankers who supported me as I maneuvered my way around the fashion industry as a CFO/COO.  
Kristy Michaels
Design Director
Who inspires you?
There is not really one person who inspires me. There have been many people who have inspired me throughout my life, both personally or professionally. If I had to pick one constant source of inspiration, it would have to be my mom. My mom moved to America from Taiwan when she was twenty-five years old, pregnant with me. She didn't speak much English, and she was able to overcome the challenges of living in America and having a child on her own. She worked full-time and put herself through school at night and became a nurse anesthetist. Through all her hard work and dedication, she taught me important values, including the need to make sacrifices for our families in order to perpetuate success and happiness.
Who helped you become who you are today?
I owe a lot of who I am today to my mom, her strong work ethic, and her devotion to her family.
Who has impacted your career in the fashion industry?
Mandy Fry, president of Z SUPPLY, has made a large impact on me. I've worked alongside Mandy for over fifteen years. She has been my mentor and has taught me so much about our industry. I particularly respect the relationship that we have, because she has taught me valuable life lessons and has also shown me that you can be a hands-on loving mother without having to sacrifice a career.
Abby Garcia
Wholesale Customer Service
Who inspires you?
My close girlfriends inspire me. I love my community of girls, they kill it in their individual work industries, and they all have such different gifts and talents. They keep me inspired to continue innovating and encourage me to evolve and do and be more. 
Who helped you become who you are today? 
My mother. I learned so much by watching the way she worked hard, while loving and caring for our family and others.
Who has impacted your career in the fashion industry?
Jaime Riese taught me a lot about the fashion industry. She founded and runs her own clothing line for kids while balancing being a mom to a sweet and cool kid. She trusted and empowered me to try different aspects and job paths within this industry, from sales and operations to production, etc. I was able to wear many different hats and learn how a clothing company works from all angles.
Kelley Ho
Director of Production
Who inspires you?
My mom is the one who has inspired me from childhood through adulthood. I am one of nine children, six girls and three boys. We all immigrated to the US when I was only eleven years old, and she supported and took care of our whole family during this difficult transition. She has always made a point to teach all of us the importance of a good work ethic, which she shows by example.
Who helped you become who you are today?
My mom has always been an important role model for all of us to follow. She taught us so much about life and influenced us, showing us how to be kind to others and deal with problems. More importantly, she has been an inspiration as a mother as my siblings and I raise our own children.
Who has impacted your career in the fashion industry?
My current boss, Thuyen Ho, has made the biggest impact in my career. She is a hard worker and dedicated to her job, which are traits that are very important to me. I worked for her on my first job, at C&C Company (which owned licensed brands Redsand, Rusty, Level 7, Skins Game, etc.), where I learned every angle of the apparel industry, production, logistics etc. This position and experience led me to a position at Quicksilver, where I was Director of Merchandising for twenty years. After Quicksilver, I took some time off to be with my family for a year, but then, I was approached by Thuyen for a position at Z SUPPLY. I've come full circle and am happy to be working with Thuyen again as the Director of Production at Z SUPPLY.
Caroline Ridings
Graphic Designer
Who inspires you?
There are so many women who inspire me, but one who had a great impact was one of my art school professors. Professor Shannon always challenged me to delve into my work, and she inspired me to always pursue the things I was passionate about. The way she lives her life—her nature is so peaceful and kind—and how she carries herself and navigates the world is inspiring. 
Who has helped you become who you are today?
I think my friends have really helped and supported me along my whole journey. I remember being so unsure of myself during my first job as a graphic designer working for a big fashion brand. One particular memory is when I was making a magazine layout, and I was so nervous to mess up, but my friends encouraged me. They really helped me to find my place in the fashion industry and how I can be a true contributor to the teams and companies I work with. I feel more confident because of their support. 
Who has impacted your career?
I think it has been a team of people for sure, but seeing women in leadership has had a big impact on me. The first female art director I worked with, Cate, made a huge impact on me. I think seeing women in roles where we are historically so underrepresented has allowed me to believe in myself more. I'm thankful for all of the women before me who have paved the way through a male-dominated culture.
Roxy Arteaga
Wholesale Marketing Coordinator / Office Manager
Who inspires you? 
Definitely, my mom. She's always been a strong and caring person who puts her family first. She's been the best support system and someone I can always rely on. I can't imagine where I'd be without her today. 
Who helped you become who you are today? 
My mom has been a big influence in my life, because she has always encouraged me to be independent, to work hard, and to support myself. The values she's instilled in me have always been a priority in my life. She immigrated to the US at the age of thirteen, and she taught me to be grateful and to be open to opportunities that are presented to me. She has always encouraged me to be creative and motivated me to achieve my goals.
Who has impacted your career in the fashion industry? 
The women I work with at Z SUPPLY have inspired me in so many ways. From Mandy Fry, our President, who I work closely with in creating the aesthetic for all of our events, to Erika Klein, my boss and CMO, who has guided me and taught me all about the apparel industry and the many facets of marketing, and our CFO, Ann Fong, who has shown me that there are no limits to what I can achieve. I love coming to work and seeing so many strong, creative, and hardworking women.