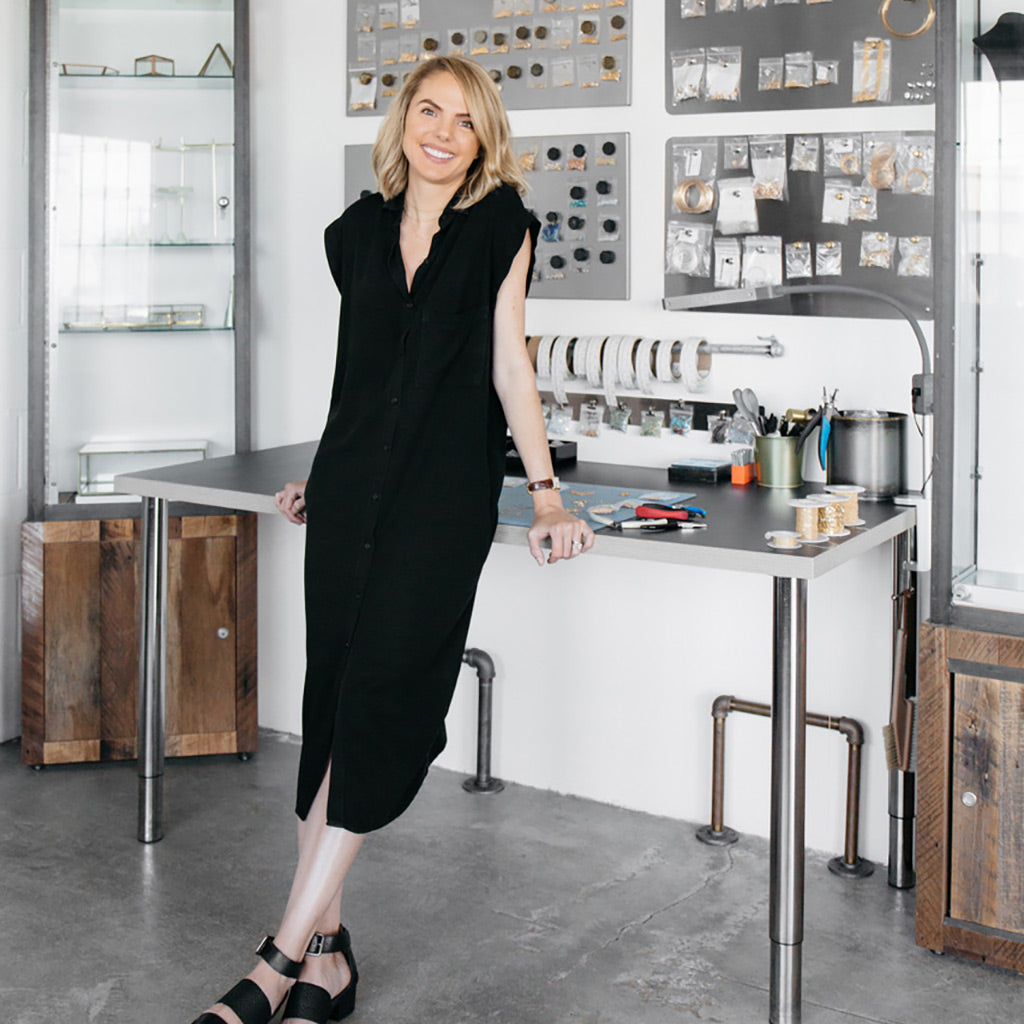 For The Record: Lily Magaziner
Meet Lily Magaziner and get a glimpse into her life as a business owner/designer in Orange County, California. 
1. Tell us a little about your background – have you always wanted to make custom jewelry and own your own business?

 
I have! Looking back, I remember making jewelry, taking apart vintage pieces and reworking them. Owning my own business was always a dream of mine. I enjoy curating collections, meeting new customers and seeing the pieces they love. 
2. What would you consider your first career "big break" and how did that put you on track to get you where you are today?

 
My first "big break" was landing a job as the assistant to the Creative Director at a large jewelry manufacturing company. We made tons of amazing jewelry for brands such as Tommy Bahama, Harley Davidson and QVC. I learned a lot about quality, pricing, merchandising and design which carried me to where I am today.

3. How do you define your personal style?

 
I love dressing up easy basics with accessories. I'm a jeans, tee, and sneaker gal with dainty jewelry, of course! 
4. Who is your biggest style inspiration?

 
My mom has been a huge style inspiration for me. She wore a vintage pantsuit to my wedding and it was so chic! She's always had a minimal closet with quality pieces she's owned for years. 
5. What is one style tip you would give to all women to help them define their personal style?

 
I think a great pair of jeans is a good starting point for any outfit. Be true to what you gravitate toward and build your wardrobe with classic pieces.  
6. What are some trends you're loving for spring?
I love the different shades of green we are starting to see. Also, mixing metals like gold and silver. 
7. What is your favorite piece from the Rag Poets spring collection and why?
My favorite piece is the Rapollo Jumpsuit. It's the perfect shade of green and so easy to wear. A cozy and classic piece I can see myself loving for years to come!

8. In honor of Women's History Month, who is a woman you look up to and why?

 
I look up to Michelle Obama. She's raising two beautiful girls and has handled the spotlight with so much style and grace. I admire her values, ethics, poise and elegance. 
9. Why is women's empowerment important to you?

 
Working with a team of extraordinary ladies is so rewarding. We lift each other up, support and empower one another daily. There's no competition, we all have unique skill sets and feel supported to share and implement our ideas.

10. What's one piece of advice you would give women out there looking to pursue a career as a business owner?
I would say, be open to feedback and learn as you go. The business doesn't need to be perfect before you launch. Just get started and refine along the way!
For more on May Martin, click here. To shop the new Rag Poets Spring Collection, click here.