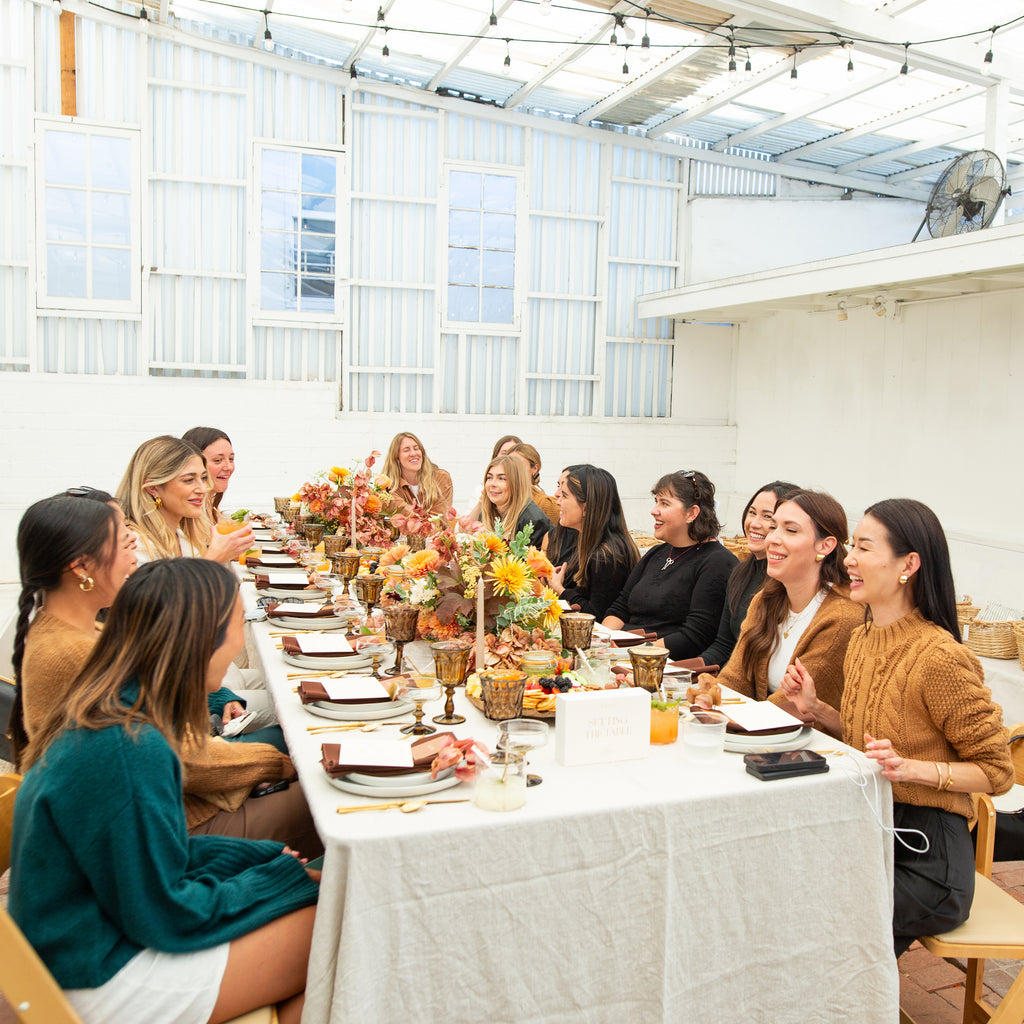 Z SUPPLY x The Salt Horse Holiday Host Workshop
This week, we teamed up with our friends at The Salt Horse in Laguna Beach, California to ring in the holiday season. Together, we curated an event that celebrated the joy of the holidays with a blend of festive moments, exceptional food, unmatched style, and the gratification of hands-on creativity. 
Bella Pringle, Allegra Rose, Hanna Montazami
We invited our community of local creators and influencers to start the holiday season participating in DIY workshops, acquiring new skills, and creating goods to carry with them through the season, all while styled in our coziest sweaters and party-ready pieces. It was a reunion of old friends and an introduction to new ones.
Upon entering The Salt Horse, they were met with the Z SUPPLY bar, serving the Signature YUZUCO x Z SUPPLY Martini and Yuzu Spritz Mocktail. They were able to enjoy their beverage of choice while browsing our Holiday '23 Collection.
We began with a lesson on the art of the grazing board, taught by Sam from The Salt Horse. Guests were taught how to take a blank canvas and whip it into their own masterpiece of beautifully balanced fruits, nuts, meats, and cheeses, taking their future hosting events to the next level.
Then, Lindsy from Coastal Coordinates taught how to set a table for holiday dinner parties. From selecting the centerpiece to the linens and correctly placing the tableware, the tablescaping lesson taught everyone how to elevate any entertaining experience. 
From there, Jen from Urban Marigold taught the importance of flower quality and materials when creating floral centerpieces. She shows guests how to arrange their bouquets to create depth and variety in shape and textures. 
Sam from The Salt Horse also taught everyone how to naturally fragrance their homes during the holidays with simmering spices. Each guest jarred a blend of her favorite dried spices, botanicals, and herbs to simmer at home, leaving a lasting impression all day long. 
Danica Tamura, Kena Chock, Justine Cuenco, Steph Olejniczak
Lastly, Mariella from Bluebird Canyon Farms taught guests how to make edible flower salt to elevate any dish, beverage, or grazing board. It also makes an incredible homemade gift for the woman who loves to cook and entertain.
Our guests were gifted personalized baskets filled with holiday hosting essentials from our brand partners, including a Business & Pleasure Co. apron, YUZUCO spritz and cocktail card, P.F. Candle Co. scented candle, Heirloomed Collection recipe cards, Urth and Sea jewelry, and The Salt Horse gift card. Once the workshops were complete, they were able to add their handmade floral arrangements, simmering salts, and edible flower salts.
Overall, the Holiday Host Workshop allowed our closest friends to broaden their creative expression, preparing them for all of their holiday hosting plans. 
Helene Cortez, Tarah Dunn, Taylr Castro, Libby May, Geneva Marie, Gaby Monterrey
Our goal was to provide a meaningful hands-on experience for our community to connect and make memories, and we were so excited to share it with each and every individual.
Shop the Holiday '23 Collection for your next hosting outfit.