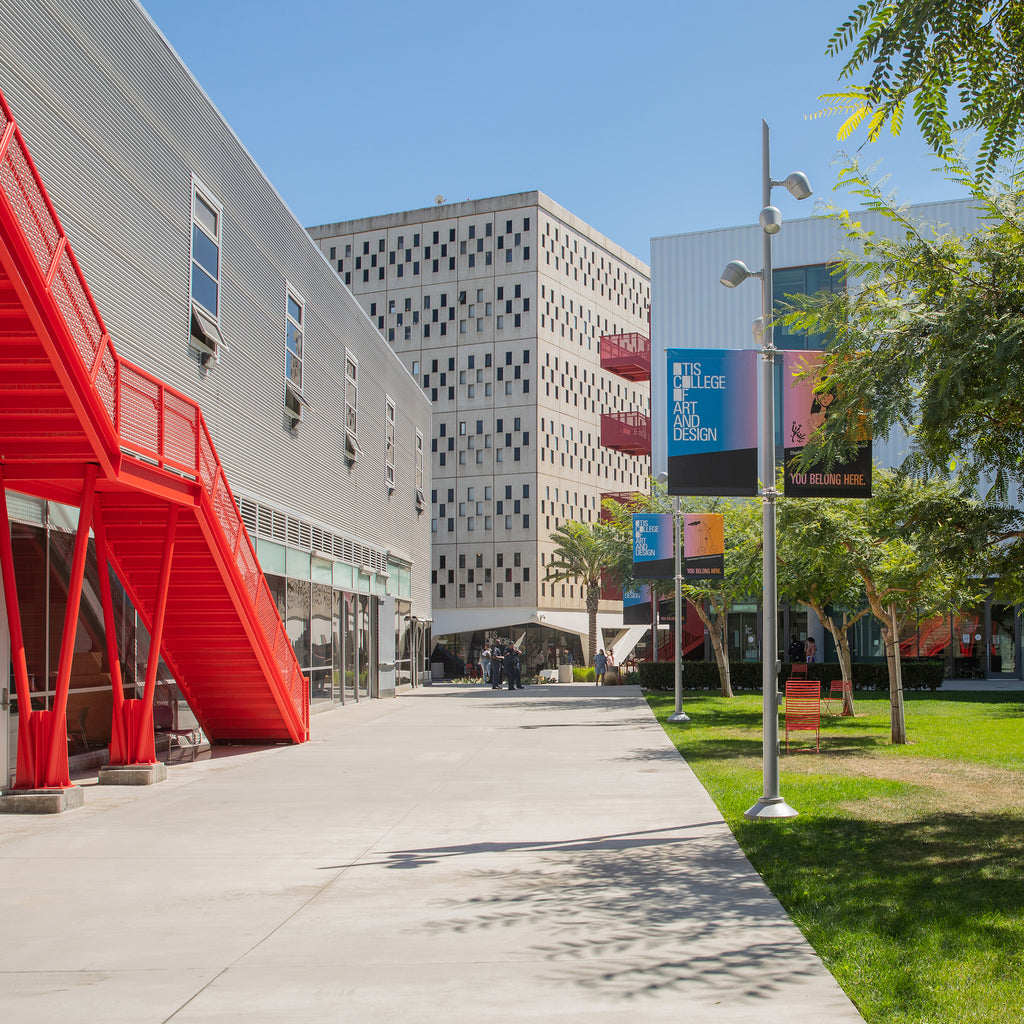 The Z SUPPLY Foundation Scholarships
Last year, we raised $300,000 for the Z SUPPLY Foundation Education Fund, of which, $250,000 went towards 30 scholarships for students pursuing a degree in art, fashion design, and marketing at Otis College of Art and Design in Los Angeles, California State University, Long Beach, and California College of Arts in San Francisco.
Recently, we had the pleasure of getting to know a few of the scholarship recipients: Áine Schimmelman, Milo Grant Williams, Sophia Yunxian Li, and Isaac Peter Mocarski.
Here is what they had to say about art, creativity, career goals, and giving back:
Áine Schimmelman (Senior)
Major: Fashion Design
Minor: Sustainability
Can you tell us a little bit about yourself and your background? 
I'm from Seattle, Washington. I grew up there, and I love everything to do with nature and the outdoors. That's what brought me to sustainability. I've always been very artistic and creative, and I'm very fortunate to have a family that is also pretty creative. My dad's a photographer, and my parents have always been able to see my point of view, and that's what made me want to study art.
What's your favorite part about your major or about OTIS?
My favorite part about OTIS is it's such a great place, and it's amazing to have so many different people from different places and mindsets studying different things at the same place. My roommate is in product design, and she's from India. A lot of my friends are from California, out of the country, or across the country, and I think it's so great to have a place where everyone can come together and create a community. It's really impactful to see different majors and what they're doing.
What does giving back mean to you? How do you currently or want to give back?
I think that giving back is incredibly important. One thing I've been thinking about is how much I reflect, thinking about how impactful that is in my daily life. Thinking about what I did that day and what I can do better. Giving back is kind of the next step. How can I take this good, positive energy and give back to others? I have been talking to and helping out students for a few years now, and it's interesting, because I was always a shy person, and it has helped me branch out. It's a community, where I feel very comfortable, and I'm able to reach out to the more shy students and see where they need help.
The element of sustainability that you're focusing on, do you consider that part of giving back to the broader community of the world?
Definitely. I think it's very important for my generation specifically. We have a responsibility or a need to think environmentally and sustainably, because we're in such a difficult place with the climate crisis and everything. I think it's great to be able to be learning about sustainable ways of thinking that I can apply to my design practice. It's kind of ingrained in me already before I start working or creating. I can create art that reaches more people.
Can you just break down what you've learned and what you do in your classes? What's your favorite part? 
The way that OTIS is specifically designed is that the first year is your foundation year. It's based on the Bauhaus model of the early 1900s, where a bunch of artists come together and learn the basics of art and design, so it is creative, but it is also very technical. I think I thought it would all be about the creative part and you do really have to have the creative side, but it's important to learn the technical aspect of things as well. My first year here, I learned about figure drawing, and I built cardboard boxes, learned about the measurements of things, and did a lot of color theory. Sophomore year, getting into fashion, we had textile classes where we learned about fabrics and how they worked and what's important. We are pretty studio-heavy here, so sophomore year was two days of studio, junior/senior year were 3 days of studio, working, sewing, pattern-making, and draping. We have mentors who come in junior and senior year, and we're able to design and illustrate garments for them and make them for an end-of-year fashion show. 
Milo Grant Williams (Senior)
Major: Graphic Design
Minor: Creative Writing and Digital Media
What kind of art do you create and what art inspires you right now?
A lot of the art I create right now is publication, using different book projects and printing methods. I'm inspired by the media I enjoy, like Nintendo games and movies from my childhood. The type of media that I tapped into during my childhood still inspires me as an adult. I think it's important to be in touch with that part of yourself as an adult, so you don't become disillusioned with your childhood passions.
What is your favorite part about your major?
I think I like how all-encompassing it is, like it doesn't feel hyper-specific on one thing. Graphic design could be applied to a book or animation openings. It's like a catchall for design and creative communication, because that's ultimately what it is: communicating ideas through visuals and words.
What's your dream career?
I don't have a specific idea of one job title, because it feels too limiting. I want to make a lot of different things. My goal is to have my name in the credits of as many different types of mediums as possible, such as movies, books or video games.
What does giving back mean to you? How do you currently or want to give back?
A lot of people as kids like art and expressing their identity in that way but become scared of showing that identity as they get older, because it's not profitable, or they think they have to fit into the world where they have to work to live. They don't think art is working. I think a way to give back would be to inspire people to realize that, with the right mindset and view of the world, you can take creative action and make it into something you can live off of.
What projects are you currently working on?
All the projects I'm working on are trying to get people to interact, to get people talking to other people. I brought a two-player activity book that will get two people to have a conversation about childhood experiences to hopefully bond from that. No matter who the two people are, I think that talking about your experiences of childhood helps you to get to know someone better. Because graphic design is a sector of communication arts, it's really important to make things that help people communicate and foster connection.
Sophia Yunxian Li (Senior)
Major: Product Design
When did you first know you wanted to do art?
My mom had a really big influence on me, because she always took us to art museums and was always into the arts. We had a lot of exposure growing up, we took art lessons and painted with her, and I started taking drawing and painting when I was 5 years old. I took art in high school all the way up to AP Drawing and Painting, and that's why I'm in art school. It's a way for me to be creative and take charge of my creativity instead of working for someone else or catering to someone else's ideas.
What kind of art inspires you?
What inspires me to make my art are the issues we're currently talking about and paying attention to. Our senior year, we're doing actual projects we actually care about instead of the teacher assigning us a specific task. I've been looking at people who have trauma or are depressed or are focused on social media, especially the negative effects of social media. Later on in the semester, we are going to design something that solves that issue or caters to that issue, so I'm in the ideation stage. I'm looking into why people are so addicted to social media and how can we get away from that.
Is that a personal experience you're working through with your art?
I feel like maybe it's just a social thing that I've noticed or that I'm a part of and that everyone's a part of right now. When I'm doing ceramics, I'm never looking at my phone. I'm really entertained by this activity, and I don't have to be distracted by scrolling through TikTok or go on social media and feel bad about this or that. I think that other people could do that, too—maybe not through ceramics, but maybe a product could do that.
How do you feel that OTIS will help you in the future?
I think OTIS really has good connections with genuine people in the industry, and teachers who are in the industry who can share advice with you and their experiences. They can introduce you to people. Personally, my ceramics teacher has done a lot for me and really cares about the students and where they're going.
What does giving back mean to you? How do you currently or want to give back?
Giving back is taking care of people for me. In my department, it's set up where all the grades are in a space together, so I'm able to give advice, look at somebody's project, and help them problem-solve. I think that's a great way to give back right now. Our ceramics department is just starting back up, so I'm teaching people how to do ceramics, and I'm teaching people how to throw, because they're interested in this craft.
Isaac Peter Mocarski (MFA Candidate)
Major: Graphic Design
Can you tell us a little about your background?
I'm the youngest of three kids and was always vying for my parents' attention. We were all really pushed into the arts as children, and my mom is a huge creative...Growing up, I loved doing graffiti. I was coached by a few people in my community. I was in the BMX community. They were publishing zines, making posters for bands, and doing a little graffiti themselves. They just showed me that art doesn't have to be painting some big mural; it can just be something that you just go out and do on the street, and it can just stay there, and you don't have to do anything about it afterwards. 
What's your favorite part about your major or about OTIS?
Just being able to explore and get my fingers in as many different pies as possible. The head of our program has really done a good job of turning this program into a fast-paced way to earn your chops. We've been able to work with film, photography, all sorts of different printing, and ceramics, and because of that, I have this view that graphic design is this tree that everything comes from. You can kind of get into everything from there. I don't even consider myself a graphic designer, just someone who is really curious about graphic design.
How do you feel like OTIS will help your future?
This school has just changed my life so much. I know that's a cliche answer, but the people I've met through this program have just changed my life in so many ways. I can't even imagine being in a different realm. I never was much of an academic growing up. I was more of the class clown and coming to OTIS was the first time that I felt like I don't only belong here; I can actually have a positive impact here. It's so nice. I want to come to school everyday, and I want to say hi to everyone I know. It's a totally new experience for me. 
How has the Z SUPPLY Foundation Scholarship helped you?
The Z SUPPLY Foundation Scholarship has helped me so much, because it was right at that time, where I'm 26, I've had work experience, and I am now coming back to school. Just having that breath of fresh air where I didn't have to worry about working right now, I could really dive deep into school and give back to my education. It's such a nice feeling.
How do you think that arts or creativity are important in the context of the community and the world?
I actually love this question, because during undergrad, I studied anthropology and really focused on structural anthropology, the underlying structures behind every culture that make us all similar. That's what design is to me. So coming into this program, all of a sudden, I see the structure behind my feelings, my ways of being, everything. It's made my life a whole lot healthier, because I have a healthy place to put my grief or anger or frustration, and I don't have to take it out on myself or be hard on myself. I have healthy outlets now, and I can channel my emotions into my work. There's always work to be done, so there's always a neverending supply of help.
We appreciate our scholarship recipients for taking the time to speak with us and look forward to see where their careers take them.
Learn more about the Z SUPPLY Foundation.