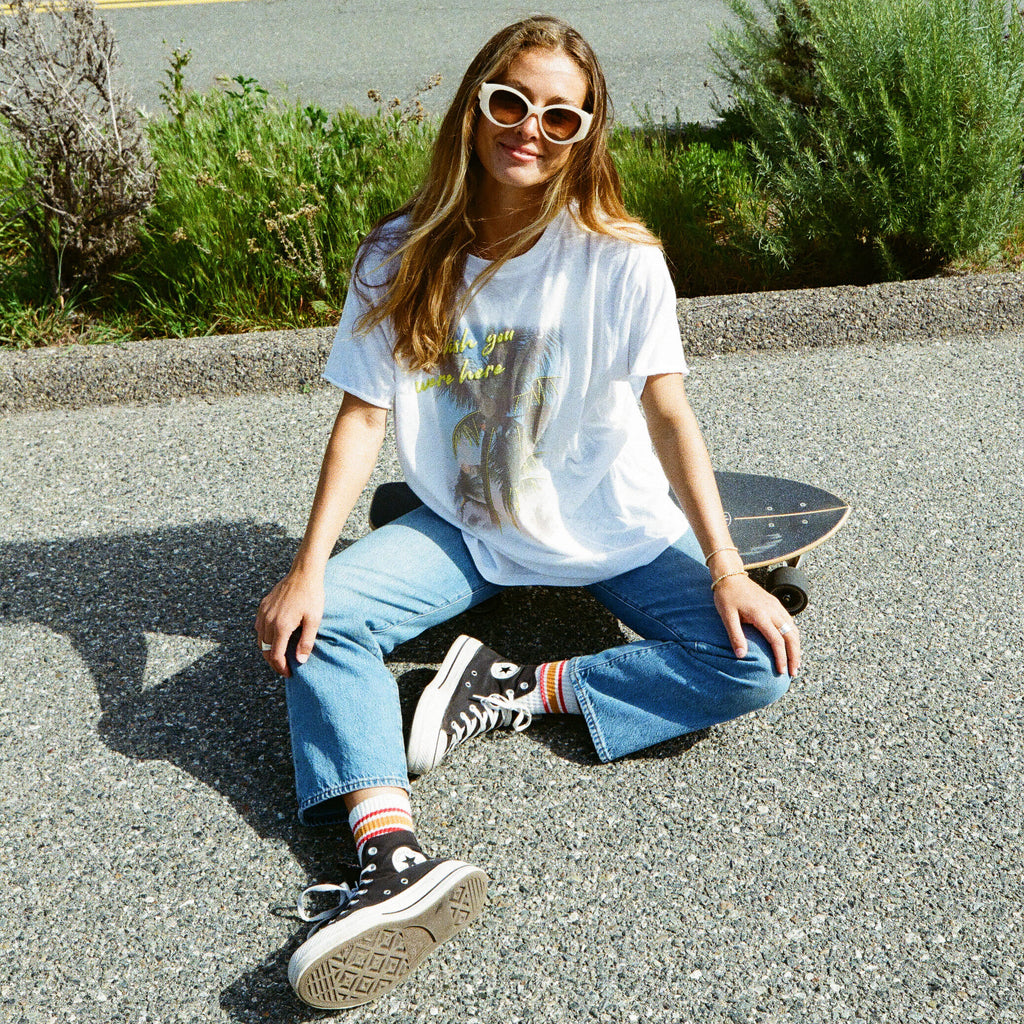 Meet the Artists: Katie McDonald
The Z SUPPLY x Artist Series is a collaborative collection of limited-edition tees featuring original artwork by artists from across the country that give back. With any Z SUPPLY purchase from now until March 31st, you can donate to Inner-City Arts in support of arts education in the heart of Los Angeles.
Get to know one of the five talented female artists, what inspired her, and the story behind her collaboration tee.
Katie McDonald
Katie McDonald is a lifestyle, landscape, and adventure photographer, and she draws her inspiration from the people and places around her. She loves digital and film photography, videography, drawing, and storytelling. Born and raised in New Jersey, Katie is currently living in Southern California because of her love for the sun and the ocean.
Where is your happy place?
When I was trying to write the answer to this question, so many places came to mind, but before places came to mind, people did. I always say to the people I love, "it's the people, not the place". I feel most at peace when I am surrounded by family and friends who empower my creativity. If I had to choose a physical location, I would say, my happy place is definitely the ocean. It is a place I feel most calm and aware of my surroundings. 
What does your love of art stem from?
It's hard to pinpoint exactly where my love of art stems from. I would say it started as an outlet for all the ideas I had in my head. I wanted these thoughts to become tangible. This outlet then flourished into a way of life that now I couldn't imagine living without. I love art in all its forms, especially those that I am not able to create on my own. 
What inspires your work?
Like many artists I feel I draw inspiration from many places; however, I feel most inspired by the beauty of nature. When I am able to create my work in nature, that is when I feel the most inspired. 
What is the meaning behind your tee?
The meaning behind my tee is to embody happiness and positivity. This is something I really try to embody in my daily life. I feel honored to have been able to make this tee come to life alongside the Z SUPPLY team!
What is your connection to Z SUPPLY?
The Z SUPPLY team has a special place in my heart! I had the pleasure of being a part of this wonderful team as a Junior Content Producer. I feel honored to be able to work alongside such wonderful and creative individuals. 
What does giving back mean to you?
I feel lucky to be in a position to be able to give back to the community around me. Giving back is a very important part of my life. I feel giving back can be done in very small ways with such great impact.
Shop the Artist Series.