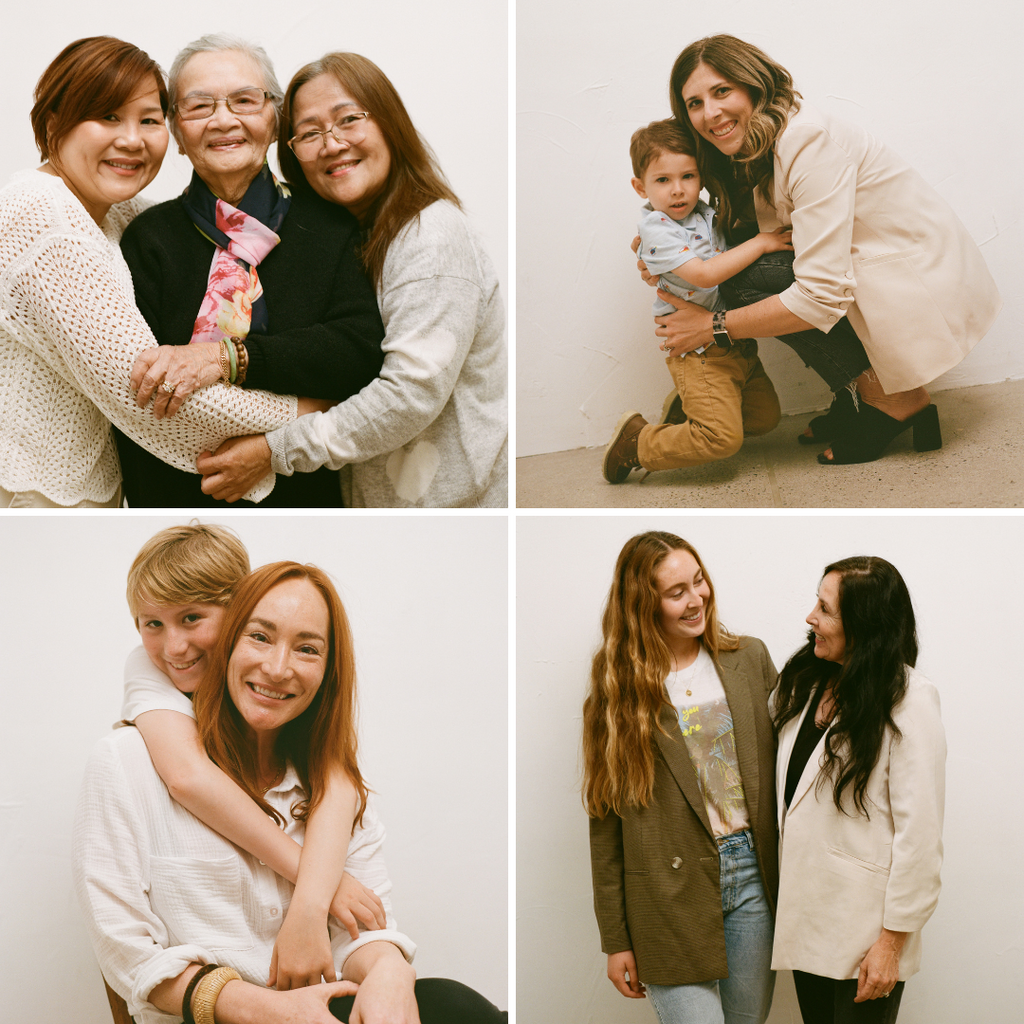 Celebrating Mother's Day at Z SUPPLY
To us here at Z SUPPLY, Mother's Day holds so much meaning. It's a day to honor and acknowledge the women in our lives who've inspired us most, sacrificed a lot, and made the impossible possible. Without them, we wouldn't be who we are today, and for that and a million other things, it's only fitting we pause to express our gratitude. 
To celebrate Mother's Day, we invited our employees to take portraits with their kids and moms as a gift to cherish forever. We also spoke to them about what motherhood means to them and how their own mom has touched their lives.
Erika + Penelope Klein
When asked about motherhood, Erika Klein, Z SUPPLY's Chief Marketing Officer shared, "Motherhood has been the most wonderful gift to me. Some of my greatest priorities as a mom include making sure my daughter knows how much she is loved, supported, encouraged, and the list goes on. I want the best for her in life and watching her grow up to be such a beautiful, kind, compassionate young lady is so rewarding, and of course, an added bonus is that she has become my personal stylist who keeps me up to date on the latest Gen Z trends!"
Erika's daughter and our former E-commerce Customer Service Representative, Penelope Klein spoke about her mother, "I'm so grateful that my mom is my best friend. From going to the beach together to getting matcha lattes at a local coffee shop, I love spending special moments with her. She teaches me how to be compassionate, intelligent, and confident, and I admire her genuine kindness and entrepreneurial spirit, which are just a few of the wonderful qualities that she has instilled in me. Lucky for me, she's not a regular mom—she's a cool mom! There's no one else I'd rather share the same smile with."
Lauren Fenner

Lauren Fenner, our Digital Wholesale and Major Account Manager, gave us her perspective on motherhood, "Motherhood, especially for your first child, brings the sudden awareness that you are completely responsible for the care and upbringing of another human being. That comes with all the feelings of joy, satisfaction, and pride, along with equal parts worry, frustration, and doubt, often experienced at the same moment. However, the strongest meaning of motherhood to me is the realization that there is no love like the love of a mother for her child."
Lauren shared the impact her son has had on her life, "Being a new mother has made me even more aware of what my own mother has meant to me. She is not simply my best friend but also has been by my side to experience my moments of happiness and has always been there to support me during my moments of anxiousness and sorrow, even as she faces down her own challenges in life. The connection between a mother and daughter is truly one of the strongest bonds."
Thuyen + Kelley Ho
Sisters Thuyen Ho, VP of Production, and Kelley Ho, Director of Production, brought in their mother and shared, "Our mom has always been the most important person to us.  She has always been supportive, understanding, and loving from when we were born, through our childhood, and now as we're adults. She has sacrificed her life taking care of us for our better lives here in the U.S. She has always encouraged each of us to be humble with our education and to better ourselves in our career. She's the great role model for all of us."
As a mom, Kelley explained, "Motherhood is the most wonderful lifetime experience for a woman. I'm lucky to have experienced in this lifetime.  All my kids are great kids, and I have been enjoyed them very much. I'm a lucky mama."
Erin Hawley
For Erin Hawley, Senior Sales Director, "Motherhood is deep love and incredible patience. It is consistently hard and always worth it.  It makes time speed up when all you want is for it to slow down. It is complete magic and utterly terrifying. Motherhood is insane."
Erin told us, "My mom would always tell my sister and I that we could do and be whoever we wanted; she always worked to bring wonder and stories to life and to see beauty all around us. She was a big part in shaping who I am today and what I want to bring to Captain's life."
Celebrate Mother's Day with us and give her the gift she deserves. Shop our Mother's Day Gift Guide.