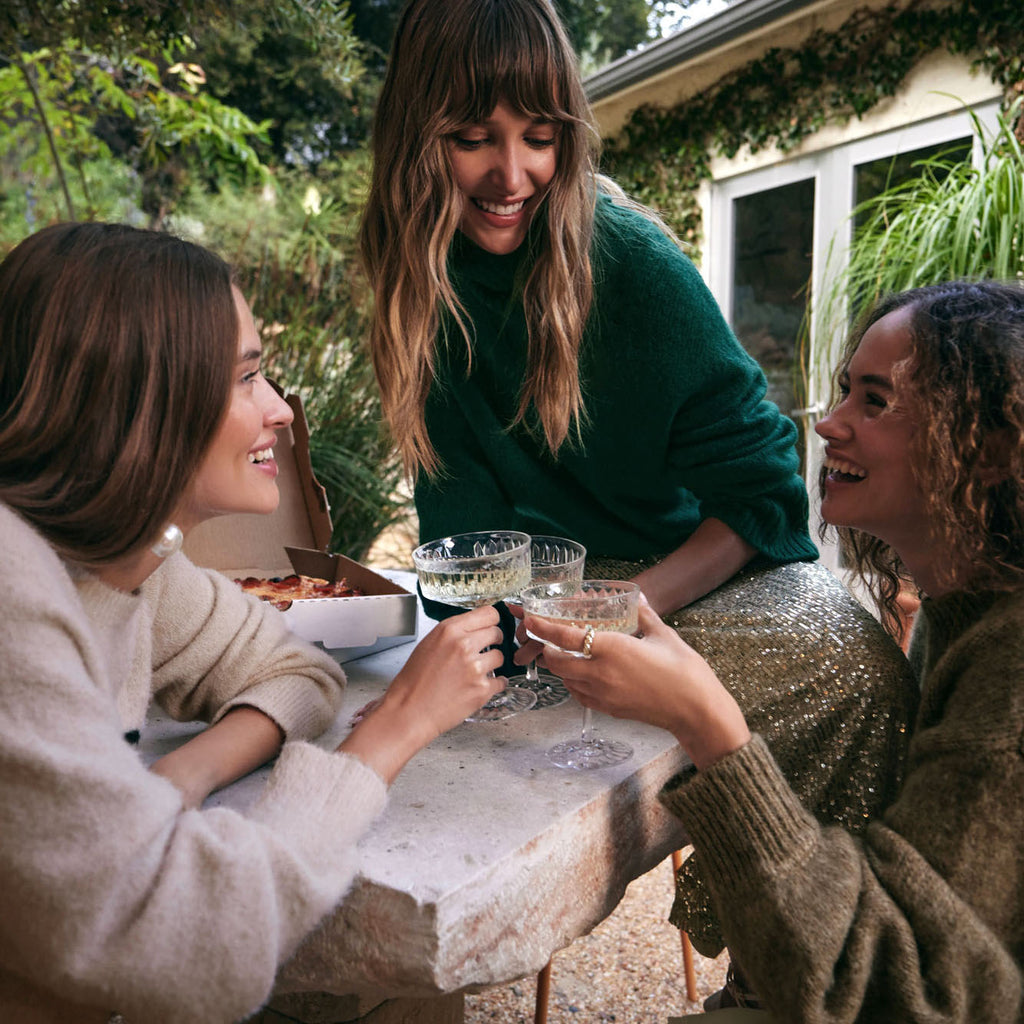 The holiday season is upon us, and that means one thing: it's time to add some glitz and glamor to your wardrobe. Whether you're attending a company holiday party, family gathering, or New Year's Eve celebration, the right outfit can make all the difference and give you that extra confidence boost. This year, we've created a range of stunning pieces that will have you turning heads at every festivity.

Selina Crushed Velvet Dress
The Selina Crushed Velvet Midi Dress is the epitome of elegance and luxury. Our Crushed Velvet fabric provides a unique, textured appearance–the color shifts as you move. You can style it with statement jewelry and heels for a formal event or simply with boots for a more relaxed gathering. 
Aurora Sequin Top & Saturn Sequin Skirt
Covered in sequins from top to bottom, this outfit will leave a lasting impression wherever you go. The Aurora Sequin Top and Saturn Sequin Skirt make a show-stopping holiday set. You can also wear these items separately to dress up your closet staples, such as a sweater or denim jeans.
Ursa Sweater & Ciera Faux Leather Skirt
The cooler seasons call for chunky knits, and the Ursa Sweater is perfect paired with the Ciera Faux Leather Skirt for an elevated look. Made with our ultra soft and cozy sweater yarns and butter touch faux leather, this combination will keep you comfortable all night long. 
Danica Sweater & Europa Luxe Sheen Skirt
For a more minimal approach to holiday looks, the Danica Sweater and Europa Luxe Sheen Skirt make a beautiful choice. The cozy, soft sweater with the feminine slip skirt creates a balanced ensemble that is ideal for a dinner party with friends and family. 
Andromeda Sequin Dress
Make an entrance in the Andromeda Sequin Mini Dress. With sequins that will catch the light from every angle, adding that extra touch of glamor that you look for on New Year's Eve, this dress comes with compliments guaranteed. Just add a pair of strappy heels before you head out.
This year, we have curated a special collection that combines style, comfort, and holiday spirit. Whether your personal style is more casual or formal, our Holiday '23 Collection offers something for everyone.
Find your holiday party outfits now.